Find Your Big Data Strategy Here
Whether analytics is your thing or "data-driven strategy" sounds like a different language, this event has something for everyone. To meet the need for a collaborative, innovative, and dynamic forum, Big Data will hold its first edition tech conference and exhibition at the Toronto Metro Convention Centre, on June 14th and 15th.
Innovative leaders will speak on the power of Big Data as a business strategy and share the upcoming trends and challenges in the industry. Get access to the best content, top speakers, and major players that will ensure you create your data-driven strategy with industry leaders.
Register Now for the Big Data Toronto Event. Registration is Free. Capacity limited.
If you are thinking about how to take advantage of Big Data backend technologies such as Amazon Redshift, Google BigQuery, HP Vertica, Hadoop and others, drop by the Dundas booth or catch our live product demonstration. Learn how Dundas BI allows you to easily connect, analyze and visualize your Big Data so you can make it actionable.
Dundas will be in booth #118
Our live product demonstration will take place in the main demo area on June 15 at 11:30am. Be sure to check it out when you're there.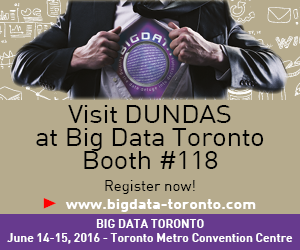 Throughout two days, the event offers 1,500+ participants with dynamic, classroom-style sessions lead by 50+ experts, it will also host 45+ leading companies that offer innovative Big Data Solutions, as well as a Start-ups corner with Toronto's untapped innovation.
The BIG DATA team has truly engineered this show to meet the market's challenges and help make their data-driven strategies come to life. Registration for BIG DATA 2016 is completely free for all attendees. Organizers encourage you to book your tickets as soon as possible as there is limited capacity at the venue.
To learn more about the BIG DATA SHOW - www.bigdata-toronto.com
To register (remember it's free but space is limited) - www.bigdata-toronto.com/register