Valentine's Day has come and passed, yet sparks are still flying as we're feeling the lingering effects of Cupid's arrow. What could possibly be causing these butterflies in our stomach? Well, as I'm sure the same goes for you too, nothing makes our hearts beat faster than hearing from our incredible customers what they've done with our product, Dundas BI.
Our friends at Absorb Software are, put simply, HUGE fans of The Bachelor, and what they've done is not only creative, but positively endearing! As The Bachelor kicked off its 22nd season at the start of the year, the Absorb Software team did what they always do (when they aren't busy creating dashboards for their clients, that is), and placed bets on who they thought would receive the final rose. This year, Business Intelligence Developer, Ryan McAllister, took it to another level – and with the hit reality show nearing the end of the season, we thought it only right to share his fun side project he's dubbed:
Bachelor Intelligence
Using Dundas BI, Ryan whipped up a few dashboards to display some Kiss… I mean Key… Performance Indicators to track the progression of the show, which he then displayed on large TV screens throughout the office.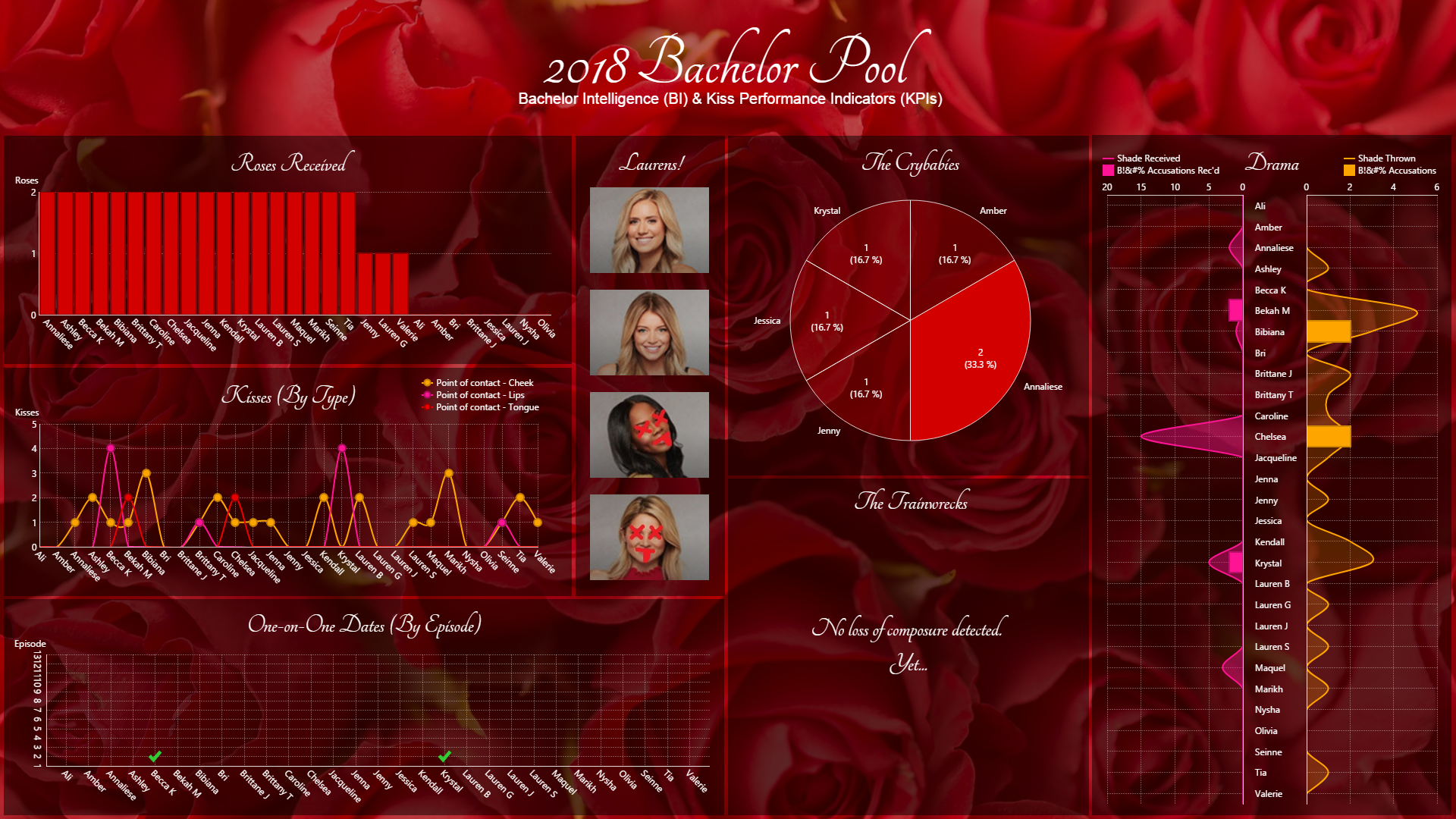 These dashboards are powered off a single Excel spreadsheet that's been configured in Dundas BI as a data source. Each week after a new Bachelor episode airs, Ryan makes note of the changes to his various metrics within his spreadsheet, thereby refreshing the dashboards.
We've got it up on the big screen in the office… people love it!
Ryan McAllister, BI Developer, Absorb Software

The beautiful rose background and complementary romantic hues were created using Dundas BI's Styles and Themes. Styles provide an easy way to set the varying properties of a dashboard such as button and chart appearance, whereas Themes are collections of existing Styles, meaning Ryan was able to apply his Styles created on one dashboard, to all subsequent Bachelor Intelligence dashboards.
If you're impressed with these dashboards and are interested in seeing more of Absorb Software's marvelous work, be sure to check out our joint case study, How Absorb Software Embedded Dundas BI to Provide Superior Analytics in a Multi-Tenant Environment.