Since 2003, Absorb Software, located in Calgary, Alberta, Canada, has made strides to eliminate the suffering caused by lackluster Learning Management Systems (LMS), not only in learners but in administrators who were tasked with creating learning environments that matched the sophistication and complexity of their organizations. For 15 years (and counting), they've been building thoughtfully designed software that supports all learning by reflecting and anticipating their clients' needs.
In the ten years before launching their flagship LMS, Absorb Software maintained a division to build great courses. As their client base grew, they quickly recognized the corporate world required massive quantities of people to be certified promptly and efficiently, with minimal administrative overhead attached. This led the organization to begin to develop an LMS that was:
"… dedicated to the commonly underestimated learning needs of the forgotten masses of corporate learners."
By 2013, Absorb Software's LMS (Absorb LMS) had blossomed into a highly sophisticated software and was used by hundreds of clients worldwide, which drove the business to focus solely on the LMS and begin phasing out course development.
Their Needs
Absorb Software works one-on-one with their clients' LMS Administrators to better understand how they're using Absorb LMS, and to determine what goals they're looking to achieve through the reporting system. Initially, Absorb Software identified the need to provide their LMS administrators more direct access to their data. However, as their client base grew, they found an increasing demand for enhanced customization to the reporting functionality. Absorb Software's clients clamored for the ability to gather actionable insights from the LMS, to bring-to-life their own specific reporting design and functionality.
To further illustrate this, Absorb's clients had requested unique data layouts as well as greater interactivity within their reporting environment, to better consume and analyze their data. With a growing client-base in a diverse range of industries, and a highly flexible software with a wide range of workflows, the challenge of building generic reports that cover all of their clients' unique needs demanded an expansion beyond Absorb's already rich suite of standard reporting options.
Their Solution
Absorb Software believed that every choice their clients made should be informed, and every action measurable. They recognized that every business is unique, and each comes with its own set of particular reporting needs, leading them to create a BI module by embedding Dundas BI into their LMS (Absorb LMS). Absorb Software employed a multi-tenancy scenario where they could effortlessly create and manage their clients, each separate from one another, and presented them with a rich suite of reporting options that are custom-built to their specific needs.
In addition to providing their clients with a library of ready made, interactive dashboards by incorporating Dundas BI into their LMS, Absorb Software acquired the ability to offer highly customized reporting, as well as customizable visual representations of data to match the unique context of each client.
Why Absorb Software Chose Dundas BI
Highly Customizable Dashboards
Automated Reports Generation
Superb User Interactivity
Dundas BI's fully customizable visualizations enabled Absorb Software to tailor each dashboard to the client's specific requirements. Even the client's branding was taken into account, helping to create genuinely professional and personal dashboard views, upping the wow-factor.
Dundas BI's built-in support for multi-tenant deployment scenarios allowed Absorb Software to easily create and manage their 100+ tenants, each isolated from another under a single deployment. Each tenant is also able to assign an administrator, who can further customize the offering, without relying on Absorb Software's services.
"We got really excited with interactive dashboards, but it never really occurred to us that Dundas could be so useful in regards to printed reports."

Dundas BI's reporting tool provides unique capabilities that allow Absorb Software to automate the entire reporting process for their clients from the point where end users select or enter data, to the point where a report is automatically generated.
Absorb Software uses highly parameterized queries within Dundas BI, to ensure efficient queries are sent back to the database instead of being forced to store the data for each of their tenants in a secondary storage.
Absorb Software thoroughly enjoyed Dundas BI's built-in filtering and navigation, as well as powerful drill-downs, through an easy-to-use interface.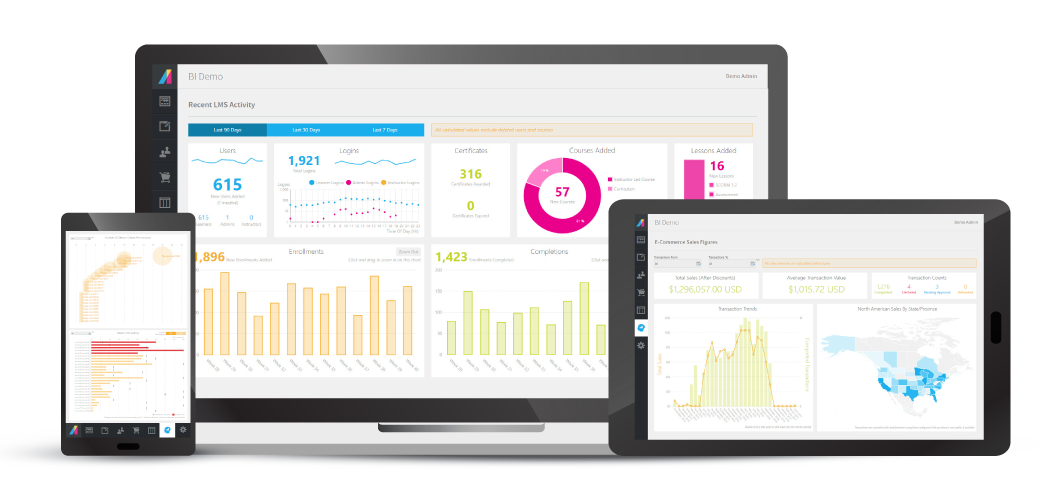 "One major benefit to hosting Dundas BI in Absorb LMS is that each dashboard is incredibly dynamic to which user is viewing it and what information they want to pull up."
Ryan McAllister
Business Intelligence Developer
Absorb Software
What can Dundas do for you?
No one knows your business better than you do.
Tell us what you're trying to achieve and we'll make sure you get there.