Redefine What Data-Driven Means
The early mornings, long days and late nights. The countless cups of coffee. The never-ending design meetings. The carpal tunnel that's creeping down your forearm as you slowly move your bar chart another 10 pixels to the left with painstaking deliberation and precision… It's all worth it though, right? Right? All the hard work and care you've put into building your company's dashboards is finally about to pay off. Your data is clean, your dashboards are stunning, your boss is beaming. What could possibly go wrong?
Try this on for size. Your company's key decision-makers are too busy to review the dashboards you've built, and by the time they've taken note of the data you've so meticulously curated, it's too late; they're unable to stay on top of the critical changes happening all around them and can't take the necessary actions to right the ship. Sure, this may seem a little dramatic, and the consequences of basing decisions on marginally outdated data are often (but not always) insignificant, but the fact of the matter is, your key decision-makers can only take advantage of their data when it's timely and directly in front of them.
So, how can you make sure this doesn't happen to you? Data changes rapidly, as does the output on your dashboards, and it's not always possible to be in front of those dashboards when the data changes. How can you guarantee the insights you've discovered are seen by the right people at the right time? How is it possible to ensure key-decision makers are alerted to critical changes in their data as soon as it happens? The answer is simple. With data-driven notifications, you'll never miss important changes in your data, ever again.
The Down-Low on Data-Driven Notifications
Notifications are everywhere. You get them when your Uber's arriving, you get them when your food's being delivered, you get them when someone's viewed your LinkedIn profile, you may even get them when your smart fridge senses it's low on food. And while notifications may come in many different shapes and sizes, they all serve a single purpose; to grab your attention and guide you towards taking some type of action. Sure, notifications get a bad rap for being annoying or irrelevant, but the benefits of having them heavily outweigh the negatives, and this is especially true in regard to business intelligence.
In business intelligence, notifications operate pretty much exactly how you'd expect them too. They're triggered by schedules or when certain conditions are met (more on this later), and offer a way to send email reminders, alerts, or updates on data in dashboards or reports. The benefits of using data-driven notifications are plenty (above and beyond what we alluded to in the scenario above), and this blog will touch on those positives and later dive into how notifications, specifically in Dundas BI, can be setup.
The Benefits of Data-Driven Notifications in Business Intelligence
Increase Reaction Time
Information is most valuable when it's up-to-date, and in the hands of key decision-makers. The faster they're able to respond to changes in data, the further ahead they'll be. Proactive, smart alerts empower key decision-makers with the information most relevant to them and empower them to react immediately.
Maximize Time Savings
The reality is, people are busy and with the speed at which data changes, aren't always able to review their dashboards in a timely fashion to see if things are on track. Notifications can be delivered on schedules or instantaneously as data develops and changes, meaning your data consumers can simply review data as it comes to them, as opposed to having to consistently monitor dashboards.
Identify Critical Changes
Dashboards and reports simplify large volumes of data. That being said, with the amount of data displayed in dashboards, it may still be difficult to spot key, critical changes in data as they're occurring. Data-driven notifications can be utilized to notify your data consumers when key metrics fall outside of pre-defined thresholds, and prompt them to take action. Inbound leads drop below monthly averages? Automatically notify your Marketing team. Experiencing an influx of support tickets? Alert your Support team to pull additional resources.
Data-Driven Notifications in Dundas BI
Dundas BI can be set up to send automatic notifications 1) when outliers are detected, 2) to compare periods, and 3) to track trends, and are triggered either when data reaches certain conditions, or when someone responds to comments you've made on dashboards/reports. These notifications can also be configured to be sent on a schedule to individuals or groups of users and can be highly customizable to those receiving them.
There are three (3) unique condition categories in Dundas BI that prompt notifications:
1) Target Data Increases/Decreases
Increases – An increase is detected in the target data
Decreases – A decrease is detected in the target data
It's possible to compare periods and identify trends in your data by examining simple increases or decreases in it. These are often indicated visually in Dundas BI, for example, with up/down arrows, red/green colors, etc.* In these instances, notifications may either be scheduled (i.e., monthly notifications that reveal whether revenue has increased or decreased from the prior month), or data-driven, (when changes in data are detected on a scheduled basis, i.e., polling, or a change of state for a metric set, etc.).
*It's worth mentioning these visual indicators would be added by the developer creating the dashboards and are not intrinsically tied to notifications.
2) Target Data Continuously Increases/Decreases
Continuously Increases – Regular increases are detected in the target data over a specified period
Continuously Decreases – Regular decreases are detected in the target data over a specified period
Another good way to monitor short-term trends, is to fire off notifications to your end-users when regular increases or decreases are detected in their data. This is easy to setup in Dundas BI, as the software allows you to monitor a number of items (visualizations, metric sets, target cells, states, notes, etc.) over a specified number of hours.
3) Target Data Enters/Exits Specified State
Enters State – The target data has entered a specified state.
Exits State – The target data has left a specified state.
Stays in State – The target data remains in a specified state for the specified period.
In State(s) – The data is in the specified state.
These state options allow for pretty much anything else in Dundas BI to be monitored, meaning notifications can be sent for them. For example, if you have a trend-line on a time series chart and added the formula LAST($Trend Line$) – FIRST($Trend Line$), you'd be able to monitor whether this number was negative to identify a negative trend and alert your end-users accordingly. You're also able to perform period-over-period comparisons and can automate notifications depending on whether your target data has entered/exited/or remained within your specified states (i.e., receive notifications depending on whether a specific value has decreased by greater than 20% compared to the same value one month prior).
We also briefly mentioned that Dundas BI is capable of sending notifications when outliers are detected. Much like with period-over-period comparisons, Dundas BI enables you to identify outliers by monitoring whether a value has exceeded an expected range and notify recipients accordingly.
Notification Delivery Options
The first way to deliver notifications is by email. These emails can be designed and distributed directly from within Dundas BI. Using a simple editor, you're able to customize, format and style your scheduled emails using HTML (to either improve the design, or meet corporate branding standards, etc.) and increase user engagement.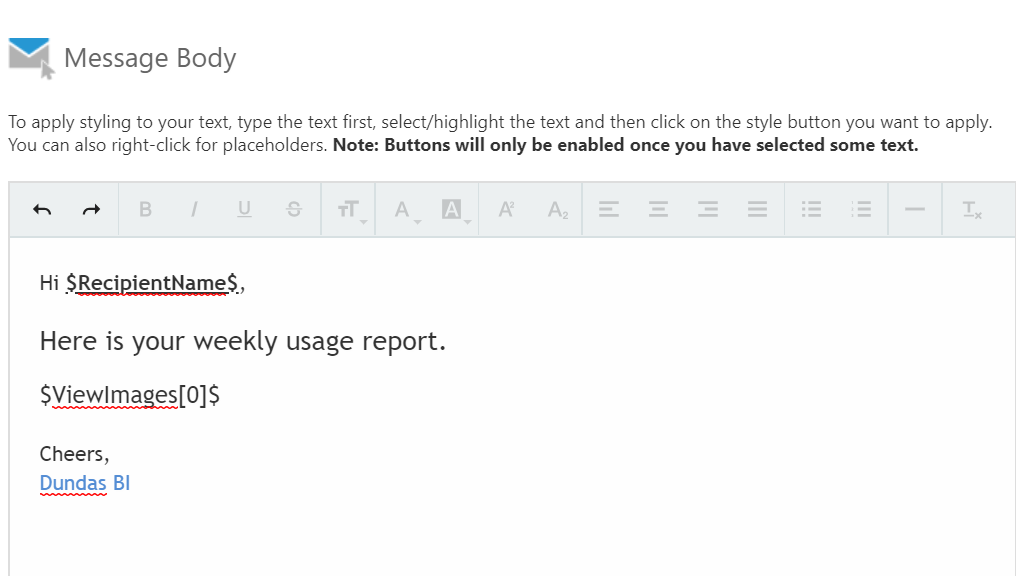 Figure 1: Format emails using HTML in Dundas BI
The second way to deliver notifications from Dundas BI is by exporting the file to a specified folder location. It's possible your company uses a third-party system that may want to achieve something outside of Dundas BI. In this case, Dundas BI could, for example, have a PDF created due to a notification and your third-party system would then pick up that PDF and display it somewhere on your website.
Conclusion
The next time someone comes up to you and let's you know they're too busy too look at your dashboard, or that there's too much data and it's difficult for them to pinpoint what's important to them, tell them you've got just the solution. Notifications alone won't change your business, but they will deliver the insights that matter to those who need them most, when they most need them.
For more information on how to implement data-driven notifications in Dundas BI, check out this article.