Administration overview
Administration tasks are performed right from Dundas BI's main interface, including licensing, application configuration, and user accounts and their privileges.
1. Accessing admin functionality
To access the administration functionality, first log on as an administrator user. After initial installation or sign-up, the built-in administrator user's logon name is admin, and the password is the one specified during the installation procedure or provided to you. Users who are part of the System Administrators group also have access to the administrative functions.
Go to Dundas BI's main menu on the left, click your profile button at the bottom, then access Administration from the pop-up menu. (In earlier versions, Admin is listed directly in the main menu.)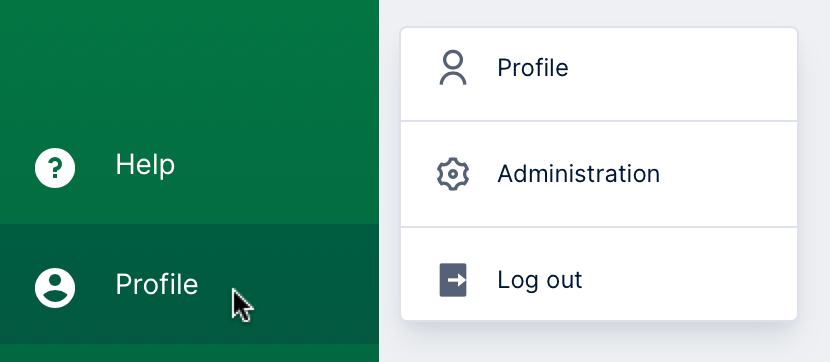 Alternatively, if you are at the home screen, you can expand the quick actions using the button in the top-left, then click Administration.
You are now presented with the administration homepage, and a list of administrative functions you can navigate between in the sidebar on the left.
Note
Tenant administrators do not have access to certain pages including the homepage shown below, and will start from the File Explorer instead.
1.1. Administration homepage
The administration homepage is displayed for system administrators and its main content area is divided into three sections:
Notifications
Application-wide errors and warnings, such as failed jobs, critical logs, or licensing issues, will appear at the top of the page and may include a link for further information.
Application Information
Information related to this instance of Dundas BI, including:
Instance version
License kind and licensee
Application identity and ID
Numbers of active & recent logons, running jobs, accounts, tenants, and servers - click to go to the respective area
Server Information
Information related to the currently-used server, including:
Server name and ID
The connection strings you configured for the application and warehouse databases, if applicable
CPU and memory usage
2. Administration areas
Administration functions are categorized into different areas such as Account Service and Licensing in the sidebar to the left. Click on one of the headings to expand it and see the available options.
2.1. Projects / File System
The Projects & File System area lets you:
Create, edit, and delete projects
Explore and reorganize the files and folders within an existing project
Rename, edit, publish, or delete file items (e.g., data connectors or dashboards)
Set up security privileges and other properties for projects, files, and folders
Manage data cube storage options and scheduling
See Manage projects and the file system for more details on these options.
2.2. Account Service
The Account Service area lets you:
2.3. SaaS / Multi-Tenancy
Dundas BI has built-in support for SaaS (software-as-a-service) and multi-tenant deployment scenarios. Use the SaaS / Multi-Tenancy administration area to:
Create and manage tenants which are isolated from each other
Add user accounts or groups to a specific tenant
View and manage tenant projects
Share a single project and its dashboards with multiple tenants using tenant overrides
View and customize the licensed seats for each tenant individually
Note
You must have the appropriate licensing from Dundas in order to see this option.
2.4. Licensing
The Licensing area lets you manage existing Dundas BI licenses and add new licenses. You can also see how many licenses of each type are in use and how many are available.
Tip
Adding a valid retail license will remove the evaluation watermark from Dundas BI.
2.5. Import / Export
This area lets you:
Import and export projects, accounts, settings, and various other files and objects from one Dundas BI instance to another
Save your export settings for future use
2.6. System Health
Use the System Health area to:
See Monitoring system health for more about these options.
2.7. Setup
The Setup area lets you:
Note
If you did not install Dundas BI, Servers, Server Groups, and Extensions may not be available depending on how your instance is hosted.
2.8. About
Click About to view the About screen for this Dundas BI instance.
The About screen displays information such as:
Version
Release Kind
Build Date
Licensed To
License Kind
License IDs
Session ID
Application Diagnostics
All users can access a similar screen from their profile via the More about this product link, but non-administrator users see fewer details. To also hide the product version from those users, enable the Hide Error Stack Traces configuration setting.
Tip
Application diagnostics can contain useful information such as installed drivers and memory cache usage.
3. See also