Application logs
1. Overview
The application log in Dundas BI can help you troubleshoot operational warnings or errors and diagnose performance issues.
2. Viewing the application log
To view the application log in Dundas BI, go to the main menu and click the Admin button.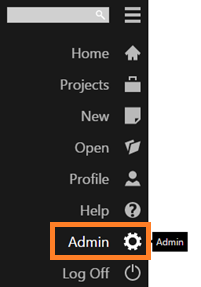 In the Admin screen, expand the System Health category and then click Logs.
The application log entries are displayed in a table on the right.
To search for log entries, use the Search box and choose one of the following attributes of a log entry to search by:
Level

- This is the severity level of the log entry (Critical, Error, Warning, or Information).

Channel

- Identifies a specific area of the Dundas BI application that is the source of the log entry (e.g., Framework.Licensing).

Message

- This is the description for the log entry.

Account ID

- View logs for a specific account ID.
Or, sort the log entries by Level, Channel, or Log Time using the Order By dropdown. Use the A-Z buttons to sort in ascending or descending order.
If you don't see expected log entries, it may be due to configuration settings that control what events the system actually logs. See Configuration settings for more details about the Log Filter setting.
3. View log details
Select an entry in the log table and click Details on the toolbar to see the details of the entry on the left.
4. Remove old log entries
By default, log entries are deleted automatically based on the Log Entry Maximum Age configuration setting. This is set to 30 days initially which means once a log entry becomes older than 30 days, it is removed.
If you want to manually delete log entries yourself, you can do so from the Logs screen by clicking Remove on the toolbar.
In the Remove Logs dialog, click inside the text box, and then use the calendar to select a date. All log entries older than this date will be removed. Click Submit to perform the removal.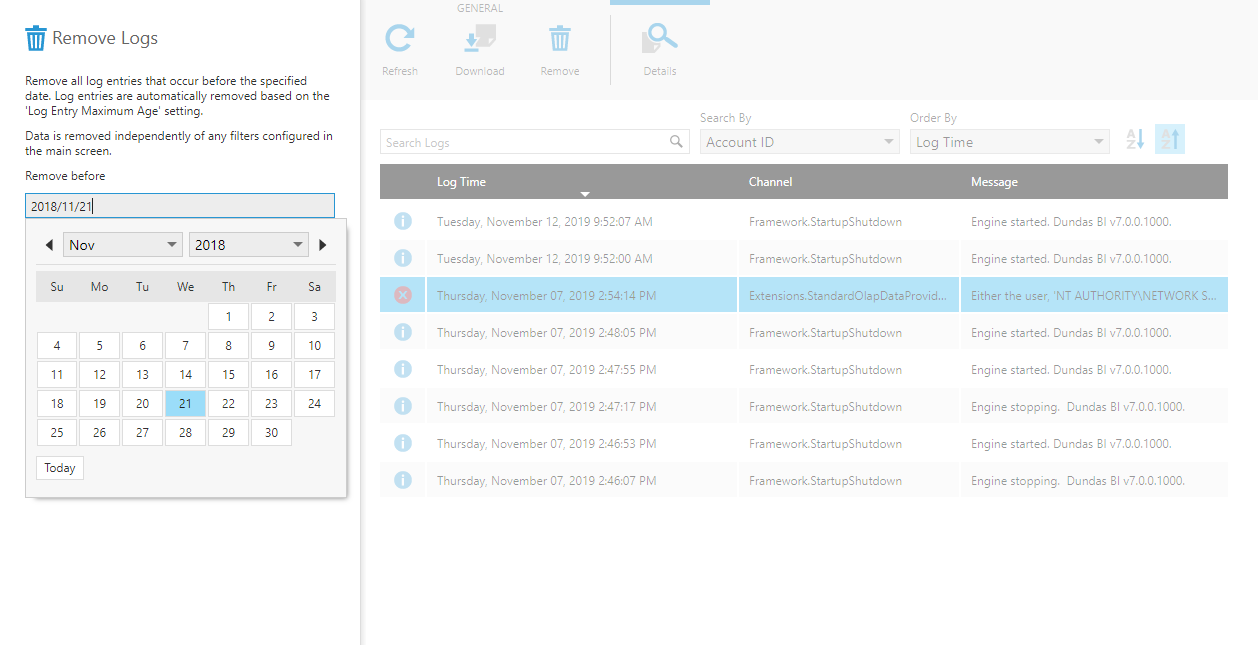 5. Download logs
Click the Download icon on the toolbar to download a .CSV file containing all of the logs in the application based on the applied filters.
This file can be viewed in Excel, for example. You may need to resize or select some cells in order to view the entire message or the date of an entry.
Note
The exported file follows the Excel cell limit of 32,767 characters. In version 8.0.2 and above, an entry is included listing the time zone of the entry log times.
6. See also