Dundas BI versioning
1. Overview
This article explains the Dundas BI versioning convention and where to find your Dundas BI version number.
2. Dundas BI Versions
All versions of Dundas BI are specified with four numbers separated by periods, referred to in this article as A, B, C and D. This is illustrated in the following figure:
2.1. Major versions
A major release has new A or B numbers in its version number, and generally contains a wide range of new features in addition to all defect fixes addressed since the previous major release.
Examples: version 11.0, version 23.2
2.2. Minor versions
A minor release has the same A and B numbers but a new C number in its version. If a minor version is released, it generally includes all defect fixes since the previous major or minor release, and potentially a small number of new features.
Examples: version 11.0.1, version 23.2.1
2.3. Revision versions
A revision may be released with a new D number in its version. A revision version is a replacement version for a major or minor release that generally incorporates a small number of high priority defect fixes.
Example: version 11.0.0.1006, version 23.2.0.1001
3. Deployment application version
If you want to see the version numbers of the installer and the instances it creates, launch the Dundas BI Deployment application on your server computer. See the list of installed folders for help to find its location.

You can also launch the Deployment application from your Start menu if you have a Windows server.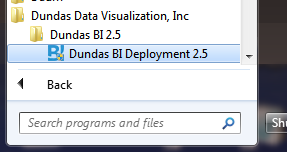 On Windows, click About in the Deployment application to see the version information.
On Linux, the installer's version number is available when running the deployment wizard or when running dundasbi --info.
4. Instance version
If you are logged into a Dundas BI instance in the browser as an administrator, you can go to your Profile in the main menu along the left, scroll down, and click More about this product to see detailed version information for that instance.
You can also access this same about screen by clicking About in the blue sidebar in the administration area.
5. See also