Using a waterfall chart
1. Overview
A waterfall chart displays the cumulative sum of a series of values as a specialized type of bar chart. It visualizes a measure's changes over a particular sequence, and well as its totals.
2. Selecting data
A basic waterfall chart can have a single measure and a single hierarchy.
More complex displays are possible using multiple measures, or multiple hierarchies added to COLUMNS (Series). Doing this will stack each set of values on each bar. This can be useful for showing how several sub items affect the total.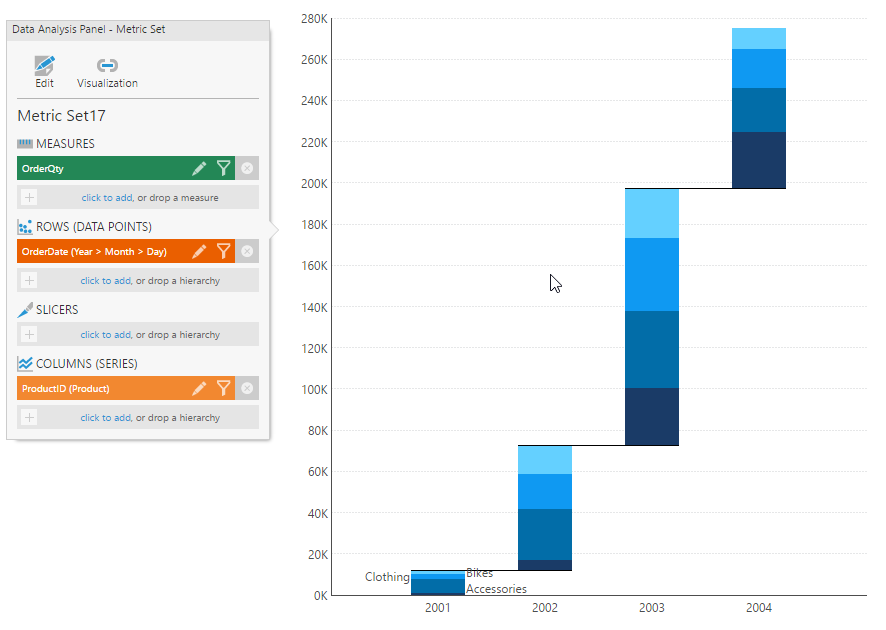 2.1. Totals and aggregators
As the chart shows cumulative effects, the measure's Aggregator should be set to Sum, which will ensure that the totals that are displayed on the chart reflect this cumulative total. Using other aggregations is possible, but may not display the desired result on the chart.
Subtotal bars will be displayed if there are multiple hierarchies or multiple levels selected on Rows in the Data Analysis Panel. (To select multiple levels, set the Top Level, or you can drag the levels onto the chart from the Explore window.)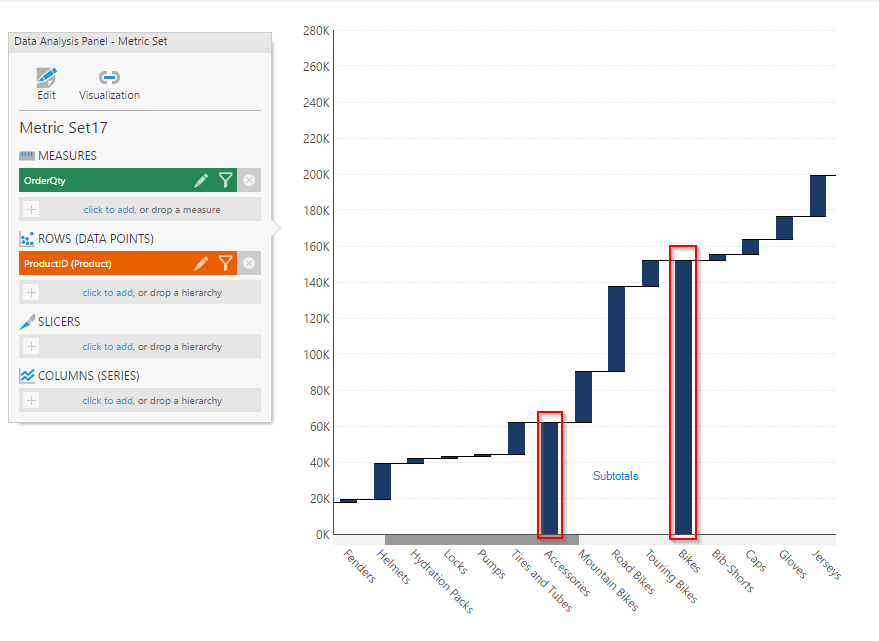 For date/time data, also ensure the axis displaying those values is set to the Category type to allow for separate positions for the totals. You can choose Category Axis in the toolbar to make this change if it is currently set to Date/Time.
3. Properties
The Grand Total bar is hidden by default. To show it, un-check Hide Grand Total in the Properties window's Main tab for the chart.
A waterfall chart (sometimes called a 'bridge' chart) typically displays connecting lines bridging bars that start or end at the same position. They can be turned off by setting Connecting Line Style to None in the series Look properties.
4. States
A common choice for waterfall charts is to visually distinguish between bars with positive versus negative values. This can be achieved by using states. For more information, see the Set up states on a metric set article.
Positive and negative states can compare against the constant value zero, while states identifying totals can compare against a hierarchy value of All.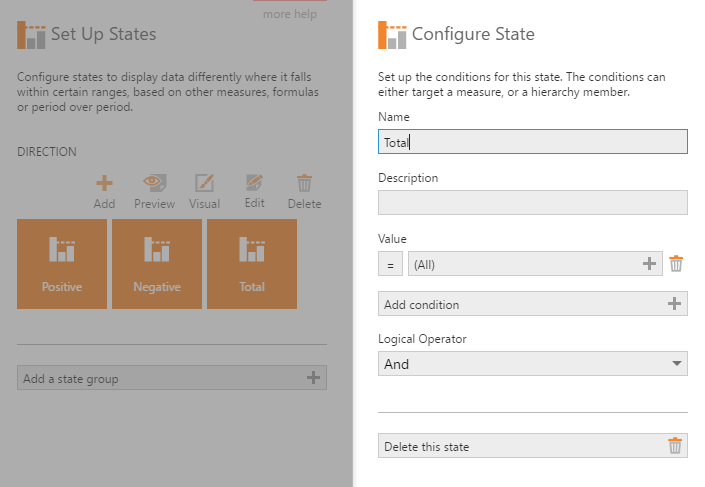 5. See also