Troubleshooting Notifications
Overview
Notifications offer a way to send email reminders or alerts to users on a periodic schedule or under certain data conditions. You generally set up notifications while viewing a dashboard or report.
This article shows you how to troubleshoot problems such as missing email notifications.
Verify the Dundas BI Scheduler Service and config settings
The Dundas BI Scheduler Service needs to be running and various configuration settings must be applied for notifications to work.
See Configuring notifications and other scheduling features for more details.
View the Application Log and look for any errors
View the Dundas BI application log as described in the article View logging information and look for any errors related to scheduling or notifications.
Check the Windows Event log for errors
Open the Control Panel's Administrative Tools, and then click Event Viewer.
Expand Windows Logs in the left navigation and select Application.
Look for Dundas-specific errors.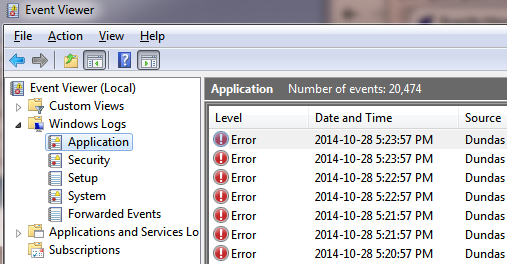 Check the next run time in the Dundas BI application DB
If you have access to the Dundas BI server and its SQL Server application database, locate the database (e.g., Dundas BI Instance1) in SQL Server Management Studio.
Edit the records for the dbo.Schedule table and look for your notification entry.
Check the NextRunTime value and verify that the time hasn't already passed.
Note that the NextRunTime value uses UTC time (Coordinated Universal Time).

See also