How to create a custom user hierarchy
1. Overview
This article demonstrates how to customize the setup of a hierarchy (sometimes called a 'user hierarchy') created from the main menu. In many cases, such as when the data source contains multiple columns or there are relationships defined, the levels are automatically detected and added by the Hierarchy wizard. Refer to the Automatic joins and hierarchies article for more details.
In case such levels are not automatically detected, you can set up the hierarchy's keys and captions yourself, as in the example below.
2. Example data
In the example depicted below, an Excel file with three different sheets is used as the data source:
ProductCategory
ProductSubcategory
Product
3. Steps
3.1. Add the first level
Create a new Hierarchy from the main menu.
To set up the first level of the hierarchy (Product Category), expand your data connector in the Explore window and find the data source (e.g., ProductCategory$), then drag it to the canvas.
Your data source can be different for each level or the same for all levels, but either way each level below the first must include parent key values that match the keys of the level above.
If you want to ensure additional levels are not added automatically, press Shift on the keyboard while dropping.
The first level can now be previewed.
Click on the first level under Structure to open its settings.
Update the details. For example:
Name: ProductCategory
Description: Product Category
Caption: Name
Key: ProductCategoryID
Right-click the hierarchy and choose Rename to give the hierarchy a meaningful name for when it's used.

3.2. Add the second level
To add another level, select the first level and click Append Level in the toolbar.
Drag and drop the data source for the second level (e.g., ProductSubcategory$) onto drop a data source.

Update the details. For example:
Name: ProductSubcategory
Description: Product Subcategory
Caption: Name
Parent Key: ProductCategoryID
Key: ProductSubcategoryID
3.3. Add the third level
Add the third level by selecting the second, then choosing Append Level in the toolbar.
In our example, we drag and drop the Product$ sheet onto drop a data source.
The third level settings in our example:
Name: Product
Description: Product
Caption: Name
Parent Key: ProductSubcategoryID
Key: ProductID
4. Preview
Under Preview, expand the members to preview the multi-level hierarchy.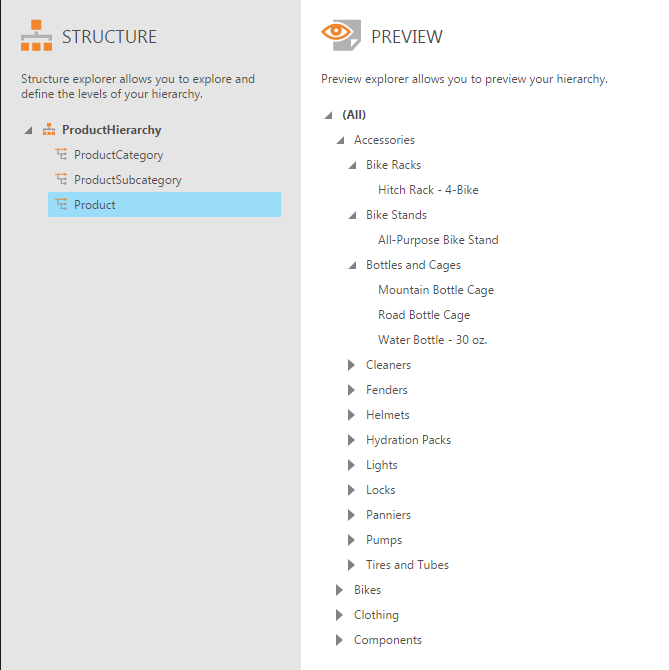 5. Using the hierarchy
This hierarchy can now be used to replace a regular column of data (such as ProductID) to gain the benefits of our multi-level organization of data. This can be done in a metric set when working with data directly from a data connector, or in the Process Result of a data cube.
6. See also