Managing licenses
1. Overview
This article shows you how to add a new license for Dundas BI.
Once you've added a valid retail license, the evaluation watermark should disappear from your Dundas BI screens.
Tip
Dundas BI version 6 and above can automatically update your license when a newer version of it is available.
2. Add a license
Follow these steps once you've obtained a new license file (or text) from Dundas.
Go to the main menu and click the Admin button.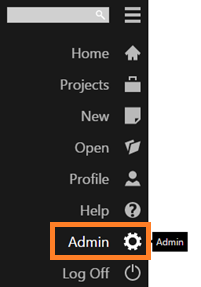 In the Admin screen, click the Licensing category to expand it.
Click Licenses. A list of existing licenses is displayed on the right. Click Add license.

In the Add License dialog, copy and paste the license string obtained from Dundas into the New License String text block.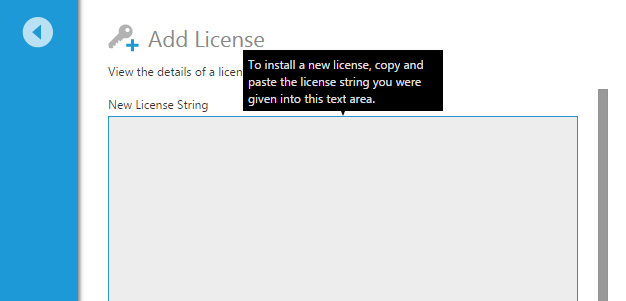 Click Submit to add the license. Then log out and log back on.
View the Licenses list which should be updated with a new entry for the license you just added.
3. View licenses
Go to the Admin screen, click Licensing, and then click Licenses to see a list of the licenses currently installed.
For any license in the list, click its Edit icon on the right to open the License Detail dialog. This lets you view the details of the license such as:
Status of the license (e.g., Valid or Expired)
Product Version
Multi-Tenancy Feature (e.g., Enabled)
Reserved Power User Seats (number of license seats for reserved/named power users)
4. See also