Handling No Data and Data Errors
1. Overview
At viewing-time, if you filter a data visualization such that no data is returned (or a data error occurs), you'll see a corresponding message displayed by the visualization (instead of just showing blank). Additionally, for each data visualization control, you can add a script or a change layer action when a No Data event or a Data Error event occurs. This allows you to execute some custom script or show/hide layers of controls when these events occur.
2. No Data indicator
As an example, consider the following dashboard consisting of a chart and a calendar range filter.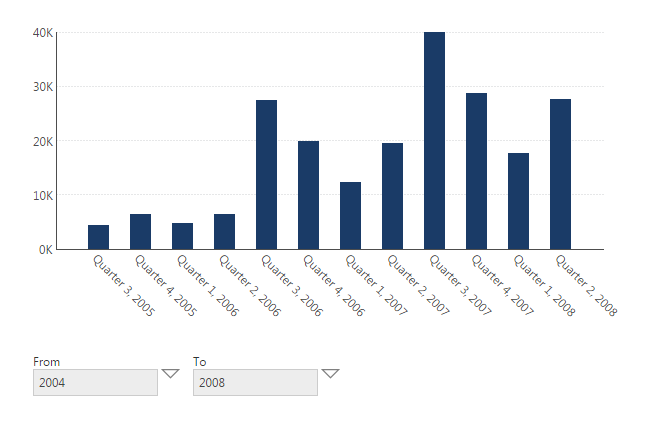 In View mode, set the calendar range of the filter to a value for which there is no data (e.g., 2004 to 2004).
Instead of showing a blank chart, you see a no data was returned indicator. 3. Data-related events
There are three data-related events that can occur for data visualizations. For each of these events you can add a script action to execute some custom JavaScript code, or you can add a Change Layer action to show or hide layers of controls without any scripting at all. For example, if No Data is received for a chart, you may want to hide the chart and associated labels completely.
Data Change

- Occurs when the data visualization control's data changes in any way. This will always fire before No Data and Data Error.

No Data

- Occurs when the control doesn't receive any data back.

Data Error

- Occurs when the control's data changes, and the data has an error and cannot be shown.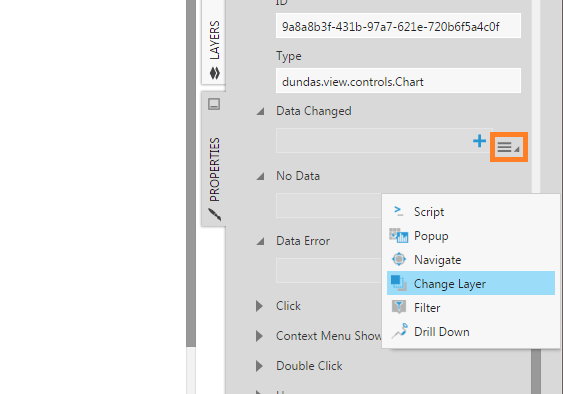 4. See also