Connecting to Vertica
1. Overview
This article shows you how to set up a Data connector for connecting to the Hewlett Packard Enterprise (HPE) Vertica database on Windows.
For more information about connecting to a Vertica database on Linux see the System Requirements.
2. Install the driver
In order to connect to the Vertica database, you need to download and install the HPE Client Drivers.
Make sure that ADO.Net Provider is selected from the list of HPE Vertica components.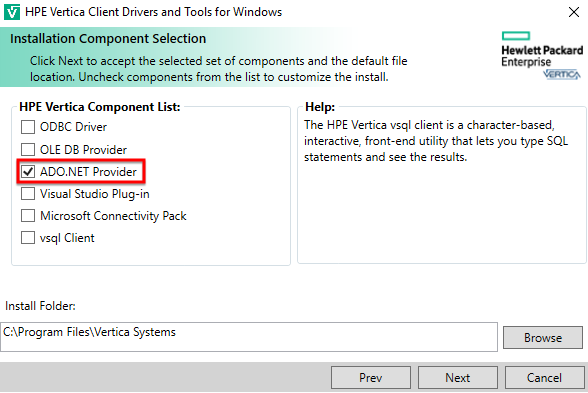 3. Create the data connector
Log on to Dundas BI and create a new data connector.
Enter a name for your data connector.
Set the Data Provider dropdown to Vertica Database.
Select the Authentication method and, if required, provide credentials. Enter the Host server and the Database name.

Click Test Connection to check the connection to your Vertica database.
If the test is OK, click submit to create the data connector and perform data discovery.
4. See Also