Showing selected members and tokens in a filter
1. Overview
This article shows you how to configure a filter to show only specific members or show specific tokens in its token menu.
You will also learn how to hide the 'All' item in member filters.
2. Shown Members
Use the Shown Members property of a Member filter to choose the hierarchy members that will be displayed by the filter.
Click the plus sign to choose the members. Although you can select members from different levels of a hierarchy, this option works best if the members you select are from the same level.
2.1. Hide the All item
Another option you may want to enable is the hiding of the 'All' item. You can do this from the Look properties of the filter. This option is also available for Member Range and Cascading Member filters.
Switch to View mode to see that the Member filter only shows the members that you selected and also excludes the 'All' item.

2.2. Multiple selection
The Member filter in the previous example allows multiple selection in View mode. Multiple selection is enabled when the filter's Show Checkboxes property under Look Properties is set to True. Uncheck this option if you want the filter to use single selection instead.
3. Shown Tokens
Use the Shown Tokens property on any filter control to restrict the list of tokens appearing in its token menu.
Click the plus sign to choose the tokens you want.
Switch to View mode to see that the filter only shows the tokens that you selected.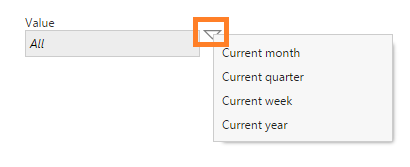 3.1. Hide the Token Menu
You can hide the token menu from the filter control altogether using the Hide Token Menu property under Look Properties.
4. See also