Use a button to apply a filter value
1. Overview
This article shows you how to set up a filter interaction on a component that will cause a data control to be filtered when the component is clicked.
The following example is based on using a button but other non-data components such as labels will work just as well.
2. Create a new dashboard
For this example, create a new dashboard using the Blank template.
Drag a measure (OrderQty) and row hierarchy (Product) from a data cube to the dashboard canvas. You'll see a table visualization like the one below.
3. Add a view parameter
Go to the bottom of the dashboard designer and click Parameters.
In the Parameters window, click Add New.
Connect the view parameter to the Product hierarchy from the table visualization.
4. Add a button component and set up filter interaction
Go to the toolbar, click Components, and then select Button. A button is added to the canvas.
Right-click (or long-tap) on the button and click Set Up Interactions. Then click Filter.
In the filter setup dialog, the View Parameter should already be set to viewParameter 1.
Click the Filter Value dropdown and select the filter value you want the button to apply.
5. View the dashboard
Switch to View mode to test the dashboard. Click the button to see the table visualization filtered to the value you selected during setup.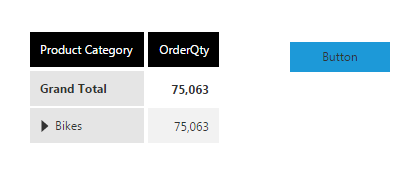 6. See also