Getting started with the .NET API
1. Overview
This article demonstrates how to use the Dundas BI .NET API in a new or existing Visual Studio project.
2. Prerequisites
Microsoft Visual Studio Microsoft .NET Framework 4.5
You must be a member of the System Administrators group in Dundas BI
3. Setup
Open a new or existing Visual Studio project
In the Solution Explorer, right click on References and Add Reference
Select Browse on the Reference Manager
Locate the Dundas BI sdk bin folder here:
\Program Files\Dundas Data Visualization Inc\Dundas BI\Instances\[instance name]\sdk\bin
Select all three files found here and Add them to the Reference folder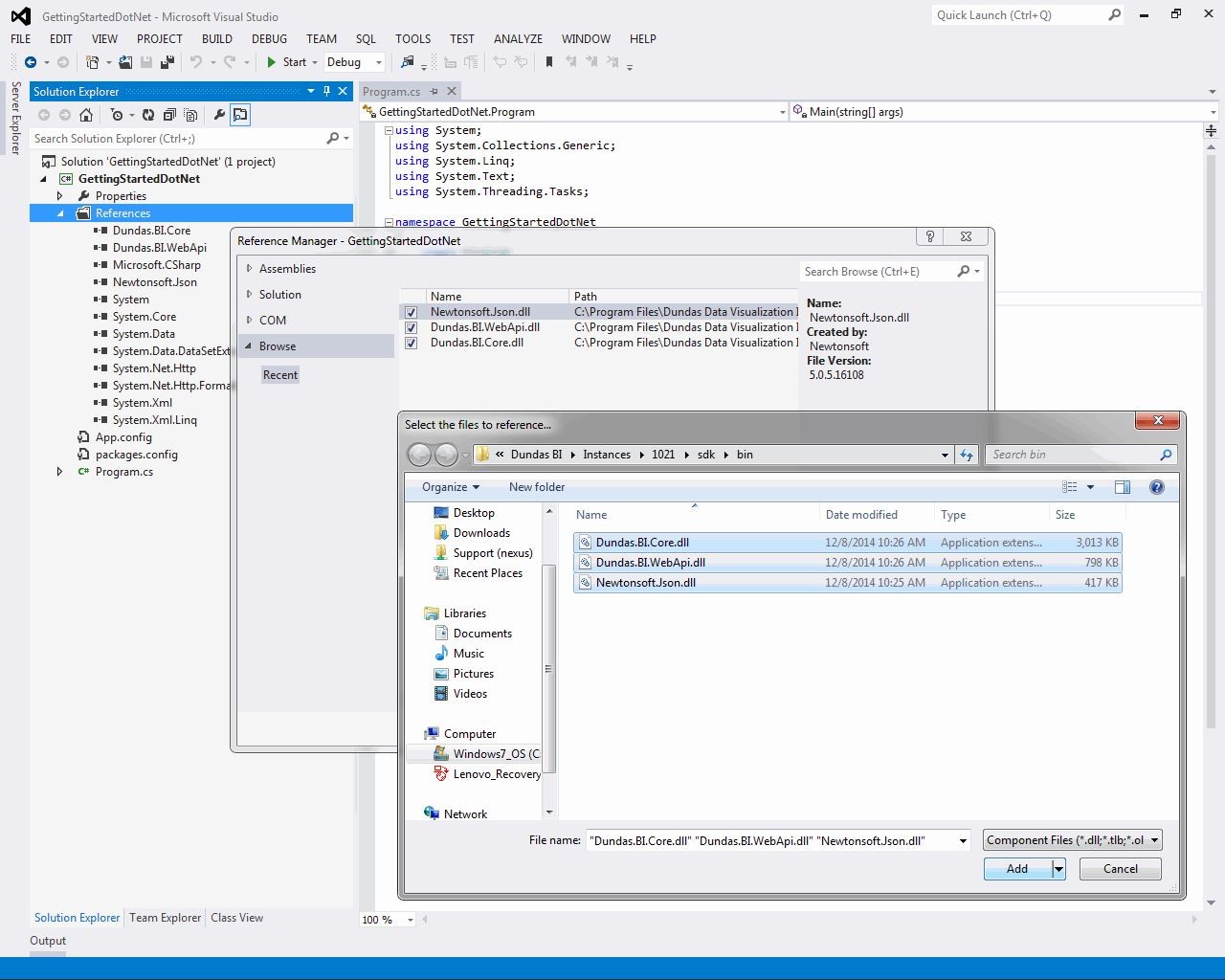 4. Start the engine
We can start up the Dundas BI Engine using the .NET API as demonstrated with the sample code below.
The AppDataPath property must be set to the path to the App_Data folder of the Dundas BI web application. The article List of installed folders provides more details.
// Create the CreateEngineOptions object.
CreateEngineOptions createEngineOptions = new CreateEngineOptions();
// Path to the application's data folder. Type: System.String
createEngineOptions.AppDataPath = appDataPath;

EngineManager.CreateEngine(createEngineOptions);

EngineManager.StartEngine();

Engine.Current.GetService<ICallerContextService>().CreateAndSetCurrentContext(null);

LogOnResult logOnResult = Engine.Current.GetService<ILogOnService>().LogOn(
	// The account name. Type: System.String
	accountName, 
	// The password. Type: System.String
	password, 
	// Delete other logon sessions for the logon to succeed. Type: System.Boolean
	deleteOtherSessions, 
	// Culture to associate with the logon session, or null. Type: System.Globalization.CultureInfo
	explicitCulture 
);

Engine.Current.GetService<ICallerContextService>().CurrentContext.SetCurrentSessionId(
	logOnResult.Session.Id
);


5. See also