Connecting to Amazon Redshift
1. Overview
This article shows you how to set up a Data connector for connecting to Amazon Redshift database.
2. AWS Account
In order to connect to Amazon Redshift data, you need an AWS account.
Sign in to your AWS Management Console and open the Amazon Redshift console at: https://console.aws.amazon.com/redshift/
From the Navigation Pane on the left, click Clusters.
Click on your cluster to open it.
Under Cluster Database Properties, go to the Configuration Tab and copy the connection string under ODBC URL.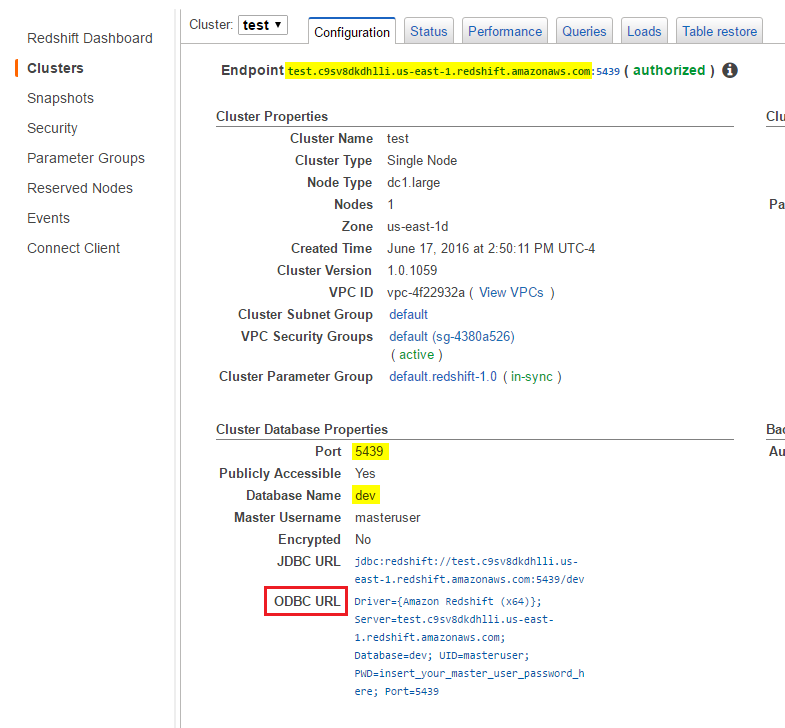 3. Dundas BI Data Connector
Set up a Data Connector in Dundas BI to connect to Amazon Redshift.
From the Main Menu, click New, and the select Data Connector.
In the New Data Connector dialog, click inside the File Name box and enter a name for your Data Connector.
Click the Data Provider dropdown and choose Amazon Redshift.
Next, supply the required credentials:
Paste the ODBC connection string in the Connection String field.
Enter the Password for the Master Username.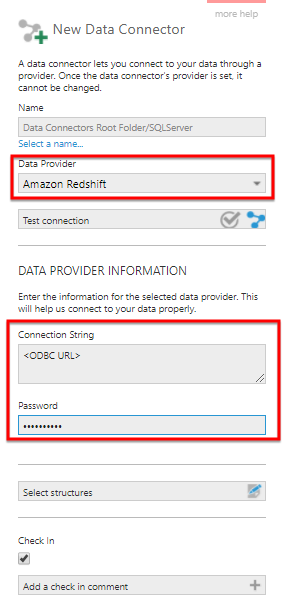 Click Test Connection to check the connection to your AWS account.
If the test is OK, click Submit to create the Data Connector and perform data discovery.
4. Notes
Amazon Redshift is based on PostgreSQL. If you require additional settings, such as the time limit for initialization and connection pool configurations, consider using the PostgreSQL data connector instead.
5. See Also