Filter
The Filter transform filters out rows that do not meet the configured criteria/settings. For example, use this transform when all of the data being read from a data source is not required and the data source doesn't allow querying (e.g. XML).
The following are some of the filter operators available in a Filter transform:
Numeric and Date columns:
Equals
Does Not Equal
Greater Than
Greater Than Or Equals
Less Than
Less Than Or Equals
Between
Is A Number
Is Not A Number
String columns:
Equals
Does Not Equals
Between
Contains
Not Contains
Starts With
Ends With
Equals Any
Contains Any
Contains All
Contains None
Matches Regular Expression
Does Not Match Regular Expression
1. Input
The Filter transform requires 1 input transform that has at least 1 column.
The input could be a SQL Select transform, or the result of another transform. For example, we'll use the output of the Aggregate transform, as seen below: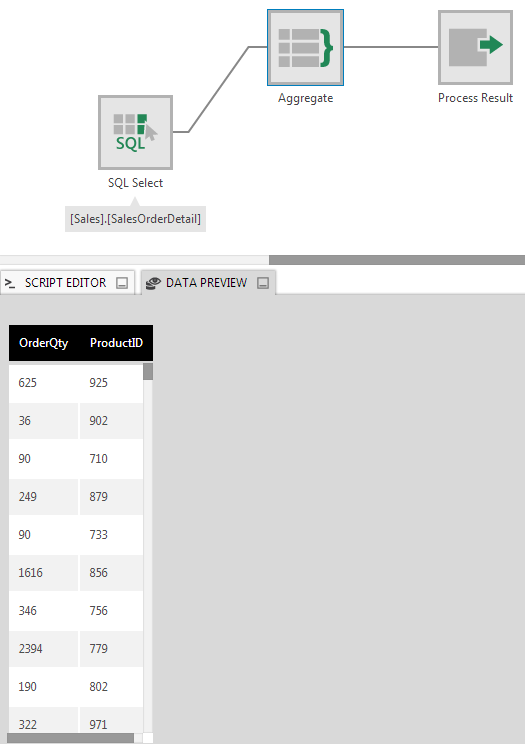 2. Configure
Steps to configure the Filter transform:
Select the column(s) you want to be included in the output.
Enter the Operator:

And Operator

- This is the default selection.

Or Operator

Click the Edit icon for the column you want a filter added to.
In the Transform Element dialog, select the Element operator.
Enter the Value.
Icons are slightly different for columns with existing filters.
3. Output
The figure below illustrates the output from the Filter transform. Only OrderQty greater than 5000 are displayed.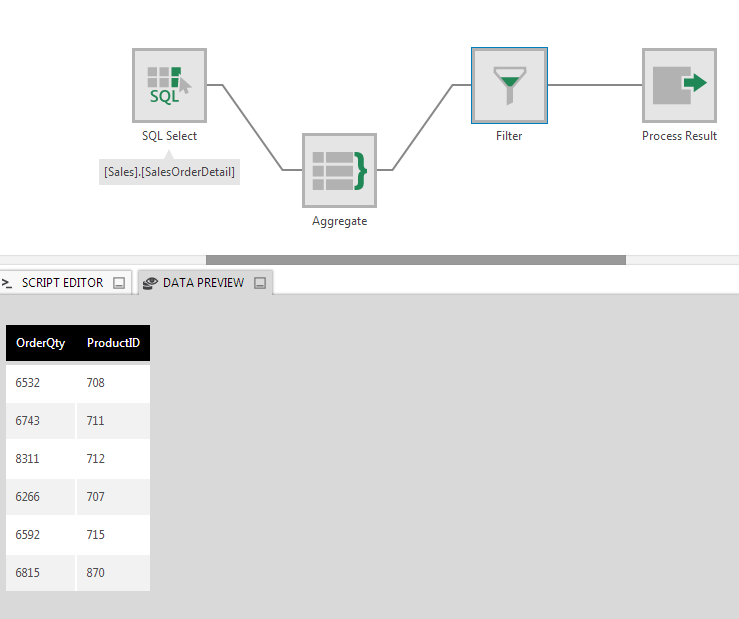 4. See also