Connecting to OData
1. Overview
OData (or Open Data Protocol) is a REST-based data access protocol which was initially defined by Microsoft.
This article shows you how to connect to OData services such as Microsoft Azure Marketplace.
For a list of available services, see OData - Live Services.
2. Connect to the OData Sample Service
Follow these steps to connect to a test/sample service provided by odata.org.
Go to the main menu in Dundas BI and create a new data connector.
Set the Data Provider dropdown to OData.
Click the File Name box and enter OData Sample Service as the name of the data connector.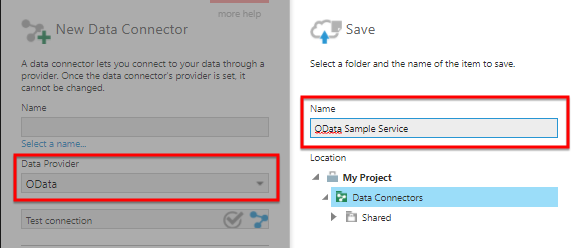 Set the Address to: http://services.odata.org/OData/OData.svc/
Select the Authentication method. For this example, select Anonymous.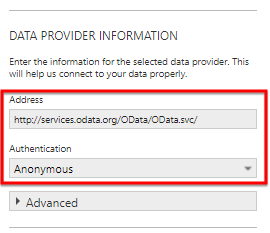 Tip
You can use the Online Credentials authentication method to connect to SharePoint Office 365.
Click Submit to create the data connector and connect to the service.
To check the results, create a new dashboard from the main menu.
Expand the Data Connectors folder in the Explore window.
Locate the OData Sample Service data connector and expand it.
Drag one of the OData tables to the dashboard canvas to see its data.
3. Connect to SharePoint
You can also connect to data on your SharePoint server using the OData protocol.
For example, set the Address to http://spserver/_vti_bin/listdata.svc/ and the Authentication method to Specified Windows credentials.
4. Advanced properties
By default, the OData connector will auto-detect the OData version, but you can use the OData Service Version option to force a specific version such as V1, V2, V3, V4, etc.
The Records Per Page option specifies the number of records or rows to fetch at a time. By default, it is set to 100 but you can increase this in order to load data faster.
5. See also