Connecting to an XML File
1. Overview
This describes how to create a new data connector for connecting to an XML file, and the different options that are available for this Data Connector.
2. Create a XML data connector
To create an XML Data Connector do the following:
Go to the main menu, click New, and then select Data Connector.
In the New Data Connector dialog, click inside the File Name box. Enter a name for your data connector.
Click the Data Provider dropdown and choose the XML File item.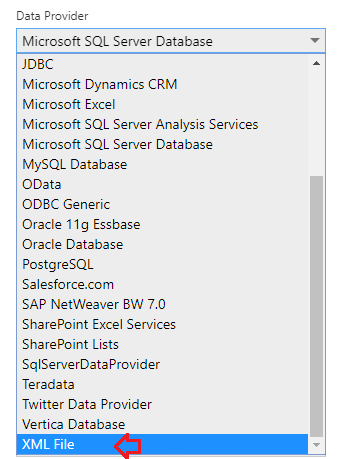 3. Connect to an XML file
There are two options to connecting to the XML file:
Upload a file - Click the Choose File button, and upload it.
Define the XML file path - using a method below enter a path.

UNC Path (e.g. \\FileServer\Xml\books.xml)
URL (e.g. https://www.w3schools.com/xml/books.xml) 1
Note
1 This feature exists in version 5.0.1 and above.
4. Select Authentication Method
Select any of the following:
Server Windows credentials
Specified Windows credentials
Impersonated Windows credentials
For more information, see the article Authentication methods.
5. Defining Properties
5.1. XML Namespace
If the XML document you are using has an XML namespace defined, you should enter that value in the XML Namespace field.
5.2. Schema Location
The following are the choices for Schema Location:
No Schema
The No Schema option is used when no schema is provided with the XML, or in a separate XSD file, and the schema should be automatically discovered. The Infer Schema option, if checked, it will generate the schema automatically from the content.
Inline Schema
The Inline schema option is used when the XML Schema is stored in the XML File.
External Schema
The External Schema option is used when the schema is separate and external to the XML file. When using an external schema it will be required to set the XSD File field.
There are two options to connecting to the XSD file:
Upload a file - Click the Choose File button, and upload it.
Define the XSD file path - using a method below enter a path.

UNC Path (e.g. \\FileServer\Xml\books.xsd)
URL (e.g. https://www.w3schools.com/xml/books.xsd) 1

Note

1 This feature exists in version 5.0.1 and above.

XML File external schema options.

6. See Also