Managing server groups
1. Overview
This article shows you how to manage multiple servers and server groups when you've deployed multiple installations of Dundas BI. Server groups make it easy to apply Dundas BI configuration settings at the group-level or override settings on a per-server basis.
2. Add a server group
To create a new server group, first go to the Administration area.
Expand the Setup section along the left, and click Server Groups. In the toolbar, click Add New.
In the Add Server Group dialog, type the name of your server group and then click Submit.
The new server group appears in the list. You can select a server group to edit or delete it from this screen.
3. Register servers
Under the expanded Setup section, click Servers.
You'll see a list of existing registered Dundas BI servers. Select one and click Edit in the toolbar to modify it.
In the Registered Server Details dialog, set the Server Group dropdown to the server group that you created earlier.
Register additional servers as needed by clicking Register New in the toolbar.
If you return to the Server Groups page, you can now edit the server group to see the list of servers in this group.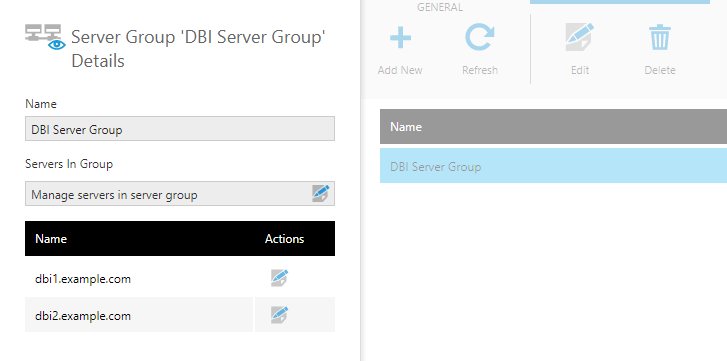 You can also click the button to Manage servers in server group from this dialog.
4. Modify configuration settings
Under the expanded Setup section, click Config to manage your configuration settings.
Set the Setting Scope to Server Group, and then select the Server Group. You can now modify configuration settings that will apply to the entire server group.

If you want to customize the configuration settings per individual server, set the Setting Scope to Server, and then select a Server Name.
See the article on configuration settings for more details on how settings are applied for different scopes.
5. Notes
Dundas BI licensing is tied to an instance of the Dundas BI Application Database, so additional licenses are not required for multiple Dundas BI servers to use the same application database unless you have exceeded the number of servers or CPUs in your license. You can view your current license to find these details.
6. See also