Tabular Select
The Tabular Select transform is created when you drag a structure onto the data cube designer canvas from a data connector that supports tabular data (e.g. XML, CSV, SQL Server table-valued functions).
1. Input
The structure of the table dropped on the Data Cube canvas is used as input. For example, the structure is:
2. Add the Transform
Steps to add the transform:
Drag and drop the file to the Data Cube Designer.
To Edit/Configure the transform, select the transform node, and click the Configure menu.
3. Configure
Steps to configure the Tabular Select transform:
Timeout - the length of time, in seconds, before terminating the attempt to execute a command.

Note

In version 5.0.1.1000, and above the default value for the timeout will be the Default Query Timeout application configuration setting.

Select the columns to be included in the output.
You can skip this step. Unlike SQL Select transforms, tabular data (e.g. data from Excel and flat files) do not have options for aggregator and grouping.
Optional - if you require additional columns using an expression, click on the New icon just below the Select Expression field.

Tabular Select transform configuration - Add Select Expression

4.1 Name - the column name.
4.2 Description - Description of this column.
4.3 Expression - SQL Expression


To use aggregators (e.g. SUM, AVG, etc.) and GROUP BY when using tabular data, you need to use the

Aggregate

transform.
4. Output
The figure below illustrates the output from the Tabular Select transform.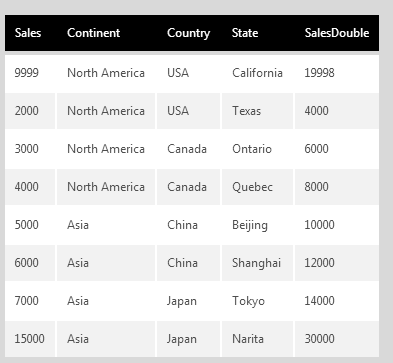 5. See also