Rank
The Rank transform allows for a rank number to be assigned to a new element created by the transform. This transform should be used right after a Sort transform, so that the correct ranking will be generated based on the sorting rule.
1. Input
The Rank transform requires 1 input transform that has at least 1 column. The input could be a SQL Select transform, or the result of another transform. For example, we'll use the unsorted Sales data below:
In order to sort the Sales data and apply the proper Ranking, you first need to add a Sort transform. In this sample, the sorting rule applied is by Sales (descending order), followed by Location (ascending order).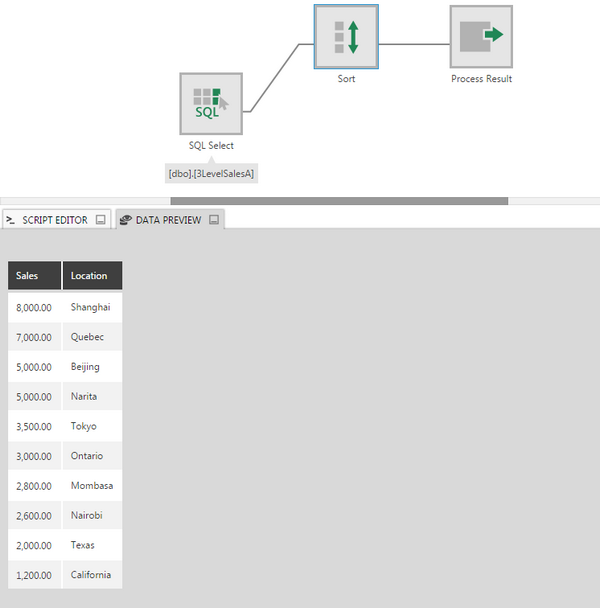 2. Add the Rank Transform
Steps to add the transform:
Select the connector link.
Select the transform from the menu.
To Edit/Configue the transform, select the newly added transform, and click the Configure menu.
3. Configure
Name

: Name of the transform, optional

Description

: Description of the transform, optional

Rank Element Name

: Assign the column name, default = "Rank"

Rank Element Description

: Assign the column description, default = "Rank of record"

Rank Type

: Select the type of ranking method. Options are:

Standard:

Consecutive values are assigned based on the sorting order, e.g. 1, 2, 3, 4

Podium:

If the value of consecutive records are the same, then the same rank is given. e.g. 1, 2, 3, 3

Continue Sequence:

The sequence of numbers should not skip when consecutive records contain the same value(s) in the rank elements.

Rank Transform Input

: Select the columns you want to be included in the output.

Ranking Elements

: Drag and Drop the column(s) you want to include in the sorting key.
4. Testing
5. See also