Displaying top/bottom records
1. Overview
You can display the Top and/or Bottom records using the Top/Bottom Measure property in the Metric Set Binding. This can be done either at the Metric Set level (i.e. using the Metric Set designer), or at the dashboard level. If you have filters, the data gets filtered first, and then the records are displayed.
This example configures a the metric set to return only 5 rows. These rows include the top 4 records and another record for Other, which groups and aggregates all the smaller records.
2. Prepare the data
From the Adventure Works database, expand the [Sales].[SalesTerritory] table. Create a new Table data visualization using SalesYTD as a measure and TerritoryID as the rows. Drag the Name hierarchy overtop TerritoryID to display the relevant name:
3. Set the Top / Bottom measure
Right-click the table, and select Data Analysis Panel.
Click the Edit icon.
In the Metric Set Default Values section, set the following values:

Top / Bottom Measure

: SalesYTD

Top

: 5

Bottom

: 0

Note

Records with the same value will be "tied," which may result in more than the requested total number of records. From the Tie Policy drop-down, select Exclude Ties to exclude tied records if their number goes beyond the requested total.
Result:
4. Set the Other Group measure
Open the Metric Set Binding Configuration panel again and click Edit.
In the Metric Set Default Values section, set the following values:

Other Group Measure

: SalesYTD

Hierarchy

: Name

Category

: Bottom

Upper Boundary Category

: Positional

Note

This option is a dynamic value that allows a specific number of points to be displayed. Other options are Fixed, which compares against a specific value, and Percentage.

Upper Boundary

: 4
Result: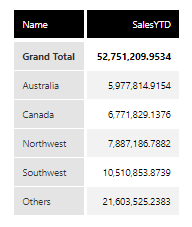 5. See also