Record Sampling
The Record Sampling transform reads in all of the data from the previous transform and generates a set of random indexes according to the number input. Then output the records according to those indexes.
1. Input
The Record Sampling transform requires 1 input transform that has at least 1 column.
The input could be a SQL Select transform, or the result of another transform. For example, the input data is:
2. Add the Transform
Steps to add the transform:
Select the connector link.
Select the transform from the menu.
To Edit/Configue the transform, select the newly added transform, and click the Configure menu.
3. Configure
Steps to configure the Record Sampling transform: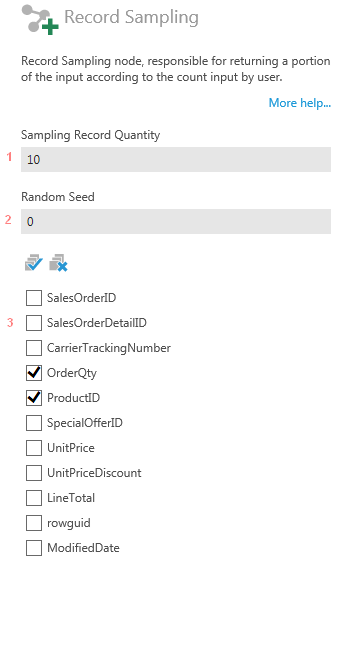 Sampling Record Quantity

- the number of records in the output.

Random Seed

- the number used to used to initialize a pseudorandom number generator.

Value is from 0 to 2,147,483,647.
If the value is 0, the random number generator uses the time and your random indexes will always be different.

Select the columns to be included in the output.
4. Output
The figure below illustrates the output from the Record Sampling transform.

5. See also