Using a Waterfall chart
1. Overview
The waterfall chart is a specialized type of bar chart that has the purpose of showing how a measure changes over a particular sequence, and how these changes impact the total. These categories may be a time sequence, or the steps in a process.
2. Data Source
A basic waterfall chart has a single measure in MEASURES and a single hierarchy in ROWS.
More complex displays are possible using multiple measures, or multiple hierarchies added to COLUMNS (Series). Doing this will cause the chart to display them in a cumulative, "stacked" fashion on each bar. This can be useful for showing how several sub items effect the total.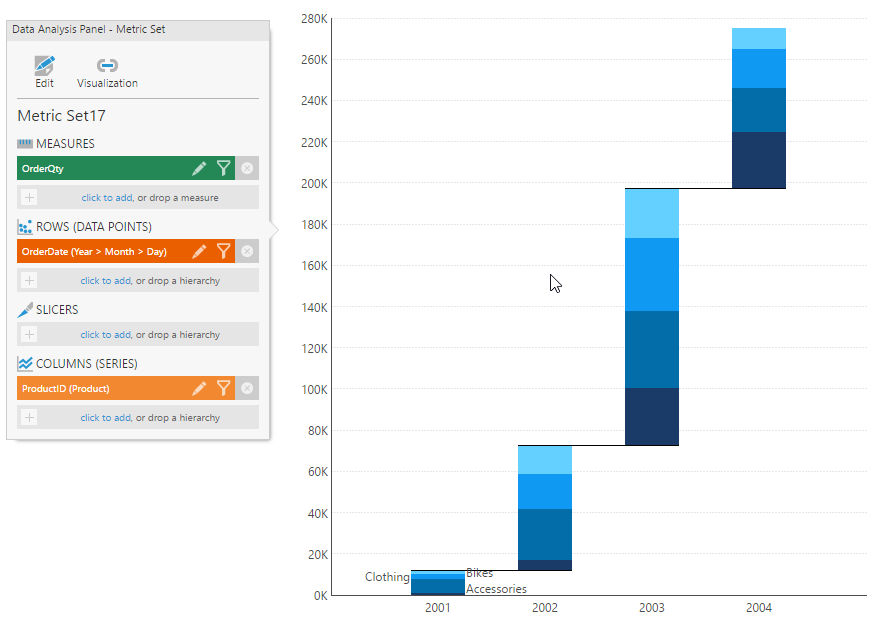 2.1. Totals and Aggregators
As the chart shows cumulative effects, the "Total" aggregation should be set to SUM, which will ensure that the aggregated totals that are displayed on the chart reflect this cumulative total. Using other aggregations is possible, but may not display the desired result on the chart. Subtotal bars will be displayed if there are multiple levels on ROWS. This can either be multiple hierarchies or a multi-level hierarchy set to show more than one level.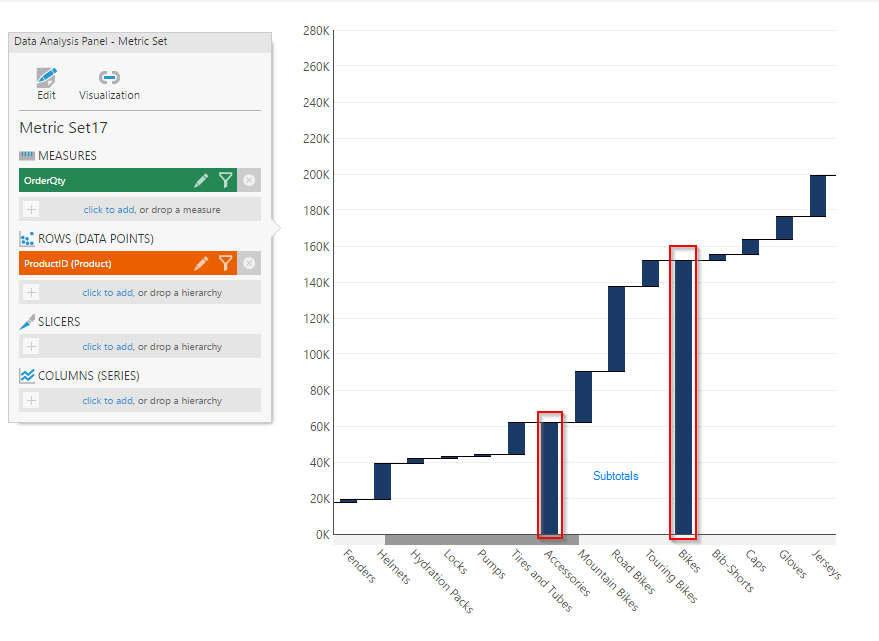 3. Creating a chart
1. Drag and drop a measure to the Metric Set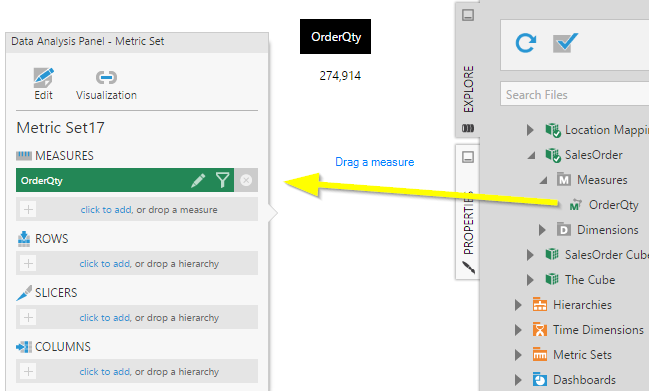 2. Drag and drop a hierarchy to the Rows column
3. Re-visualize as a Waterfall chart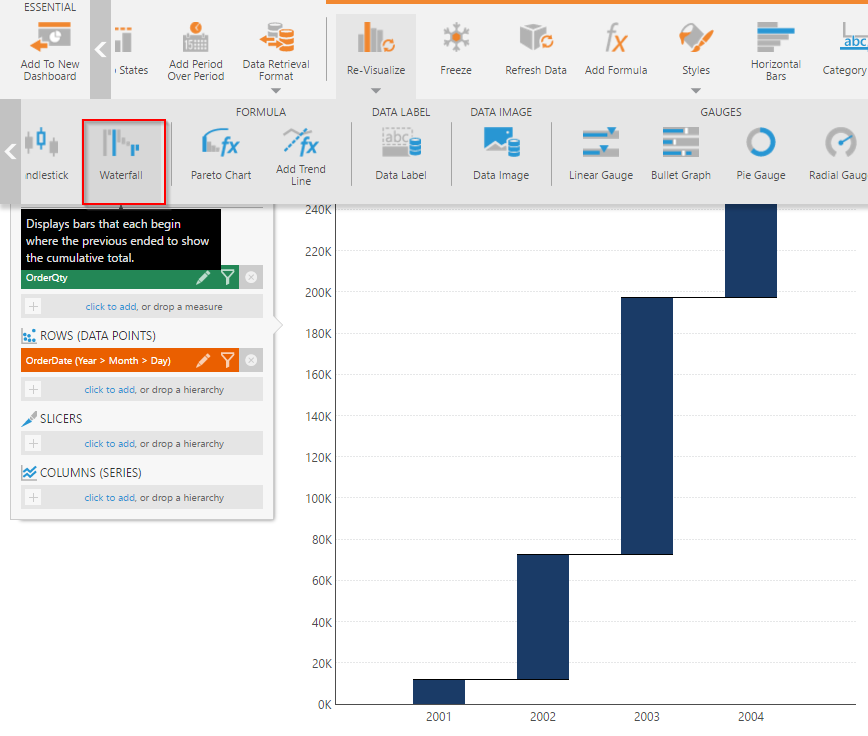 3.1. Chart Settings
The Grand Total bar is hidden by default, to show the Grand total bar uncheck "Hide Grand Total".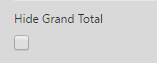 The waterfall chart contains connecting lines between the bars on the chart by default. They can be turned off by setting the value to "None" in the Series (X) > Look settings in the Properties tab.
4. States
A frequent need is to visually identify which bars are positive, and which are negative. This can be achieved by using states. For more information see the Set up states on a metric set article.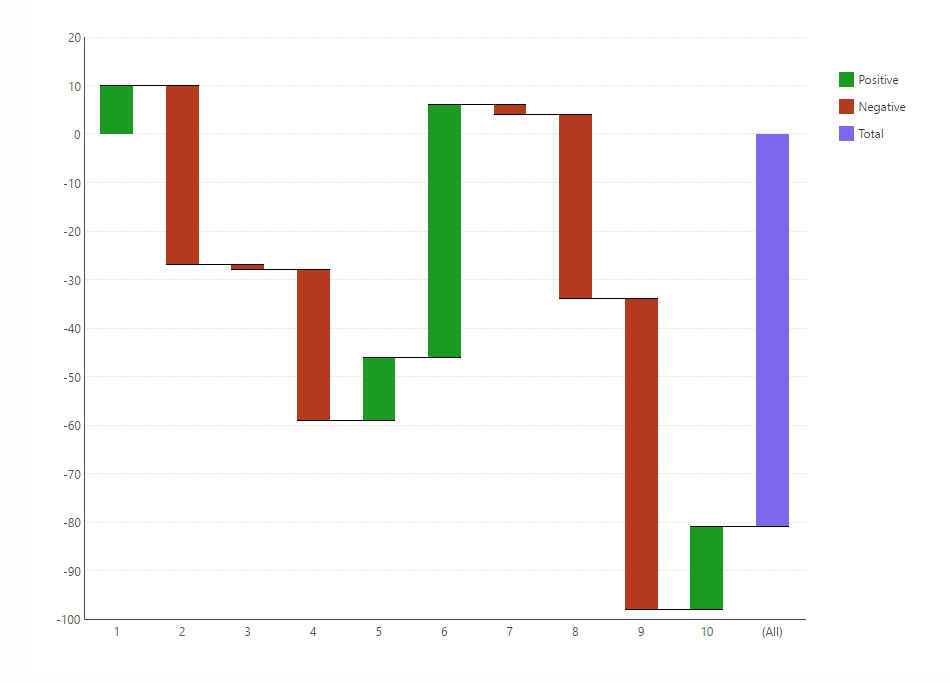 To highlight that a positive or negative change in the cumulative total can be done using states comparing against a Constant value (0). To highlight the Total bar, using a hierarchy value of 'All' can be used to select the Grand total.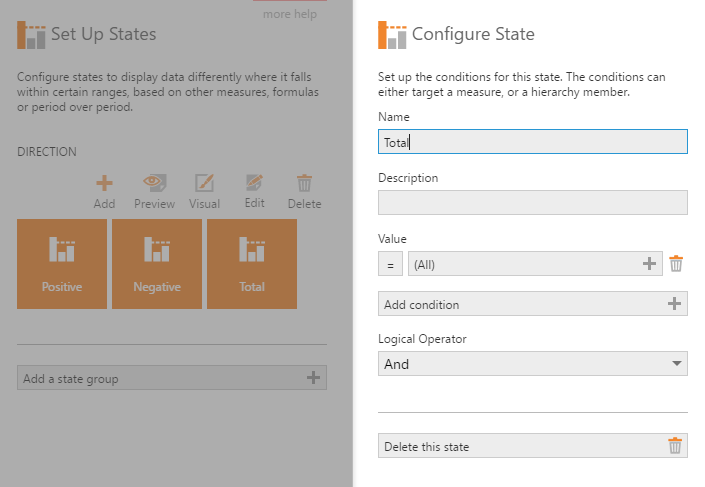 5. See Also