Group your data during analysis
1. Overview
This article explains how to create custom member groups when viewing your data visualizations.
Important
This functionality is available only when the metric set is checked-out to the viewer, and can be used in View mode for a dashboard and in the Metric Set Designer.
2. Ad hoc member grouping
For this example, create a new metric set.
From the [Sales].[SalesTerritory] table of the AdventureWorks database, use the Name implicit hierarchy and SalesYTD measure to create a table visualization.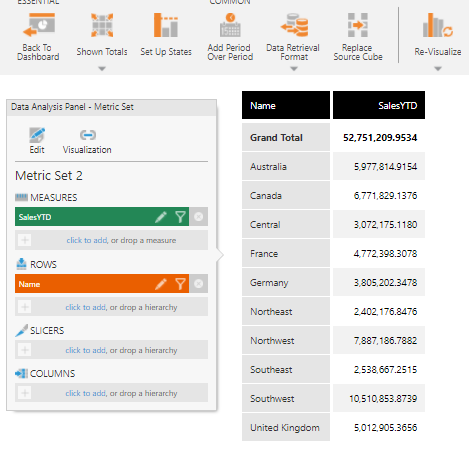 Notice that this table does not show a United States member, instead it presents separate members for Central, Northeast, Northwest, Southeast, and Southwest.
Right-click one of the five members and select Group Members.

In the Group Members dialog, provide a name for the group and use the Value drop-down to select all the members.
Submit the Value drop-down and the Group Members dialog.
The United States group is now displayed with the aggregated value of all its members.
You will not be able to change the group members after creating a group. Right-click the United States group and select Ungroup 'United States' to ungroup it.
2.1. Working with multiple hierarchies
Add the Group hierarchy to the metric set, drag the new column to the left, and Re-Visualize into a Bar chart.
You can choose which hierarchy to group by right-clicking that hierarchy, or by selecting from a list when you right-click elsewhere in the data visualization.
Hold the Ctrl key and select all the English-speaking members, then right-click somewhere on the chart and select Group Members.
From the list, select Name.
In the Group Members dialog, provide a name for the new group and submit.
The English Speaking Countries group is now displayed in each of the Group hierarchy elements where it has members, and aggregated accordingly.
3. Notes
Custom member grouping is available only for implicit and user-defined hierarchies. This means that the following hierarchies will not support this functionality:
When working with user-defined hierarchies, grouping can be done only within the same hierarchy level and for members with the same parent.
4. See also