Optimizing the Databases
Important
As of Dundas BI Version 4.0, the task of rebuilding indexes is built into the application and this article is no longer applicable.
1. Overview
The Dundas BI Application Database and Warehouse Database are SQL Server databases and critical to the operation of Dundas BI. Over time, the indexes in these databases may become fragmented, and degrade performance.
To avoid index fragmentation, we strongly recommended that you rebuild the indexes periodically. You can set up a scheduled task using SQL Server Management Studio, or do this on demand following the instructions on the Microsoft Developer Network.
2. Setting up a Rebuild Index Task
You can use the Maintenance Plan Wizard in SQL Server Management Studio to set up a scheduled task for rebuilding indexes.
For example, launch SQL Server Management Studio.
Expand your SQL Server instance and the Management folder. Right-click on Maintenance Plans and select Maintenance Plan Wizard.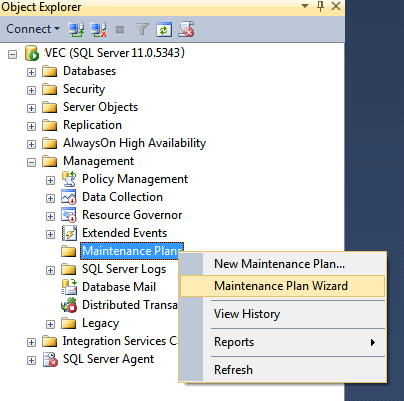 In the Select Plan Properties step, you can choose to schedule the task periodically or leave the schedule as On Demand.
In the Select Maintenance Tasks step, select the Rebuild Index option.
The remaining steps allow you to choose the databases for the index rebuild. Make sure your Dundas BI Application Database and Dundas BI Warehouse are selected. They are named Dundas BI Instance1 and Dundas BI Instance1 Warehouse by default.
3. See also