Hide measure when re-visualizing
1. Overview
This article describes how the Hidden property of a measure is used to prevent the measure from being visualized when it is used for comparison purposes only like in a state condition.
2. Walkthrough
Create a new metric set with one measure (OrderQty) and one row hierarchy (Product).
Create a new state group on the OrderQty measure and add a new state. Add a condition to the state to compare the measure against a Constant value.
Use Greater Than as a comparison operator and set the constant value to 50000. Click Submit to add the state.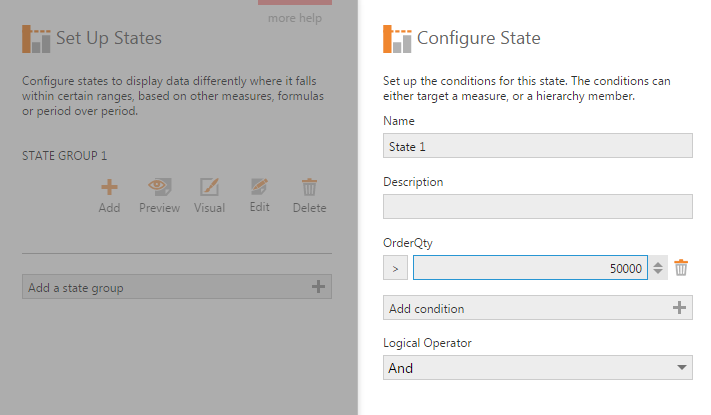 The metric set visualization displays the state and you can see that a second measure Constant (50000) has been added to the metric set. This measure is not visualized as a regular measure because it is used only for comparison purposes as part of a state condition.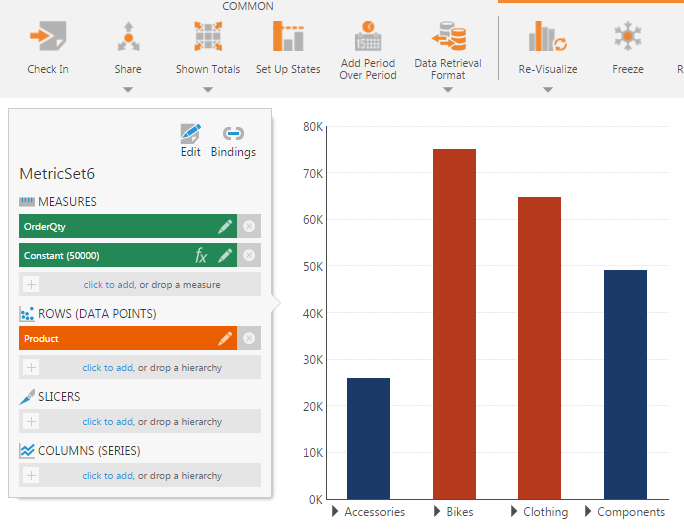 Go to the toolbar and re-visualize the bar chart as a table. You'll see that the resulting table still only shows one measure (instead of two) and one state.
Edit the Constant (50000) measure. In the Configure Metric Set Element dialog, scroll down to find the Hidden property which is set for this measure. This property is used to hide measures such as this one that are used solely for comparison purposes (e.g., as part of a state condition).
3. See also