Change the data retrieval format for a metric set
1. Overview
When you drag an entire database table (as opposed to a single column) from the EXPLORE window to the dashboard canvas, a metric set will be automatically generated with its data retrieval format set to Raw Data.
A metric set with the Raw Data format has limitations. For example, notifications, calculated measures and formulas are not available for these kinds of metric sets. Basically, this type of metric set is only used to preview data.
You can change the data retrieval format of a metric set by using the Data Analysis Panel.
2. Raw Data versus Standard format
When the data retrieval format is Raw Data, the data is retrieved exactly as it is in the native data source. In this case, you may see duplicate rows and row numbers. However, aggregations and totals will not be available.
When the data retrieval format is Standard, measures are aggregated and totals are available. However, the data may not look exactly like the native data source.
Note
When the Data Retrieval Format is set to Raw, data will ignore the
data cube storage type
and be retrieved from the original database.
3. Changing the data retrieval format
First, create a new dashboard. Go to the EXPLORE window, expand your data connector, and then drag a database table to the canvas.
The resulting table visualization lets you preview the data from the database table, nothing more.
Next, right-click the table visualization and select Data Analysis Panel from the menu.
In the Data Analysis Panel, click Edit.
Scroll down in the Metric Set Binding Configuration dialog and look for the Data Retrieval Format drop-down.
Change the dropdown from Raw Data to Standard, and then click Submit.
4. Changing the format using the Metric Set Designer
If you are editing a metric set from the Metric Set Designer screen, you can change the data retrieval format from the toolbar.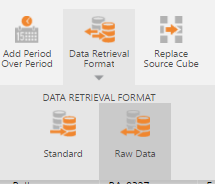 5. See also