Default time dimension end date
1. Overview
Prior to and including Dundas BI Version 2.5.1 Revision 1, the end date of the built-in, default time dimension is set to a fixed value such as the end of 2015. This can present a problem once the current date advances into the new year (e.g., 2016) as the data appearing in tables, for example, begins to be classified as 'Unknown'.
2. Changing the end date
To resolve this issue, it is recommended to manually edit the built-in/default time dimension for each of your Dundas BI projects and change the end date to a token value instead, such as End of current year.
For example, go to Explore and expand the Time Dimensions folder. The built-in time dimension is simply called Time Dimension. Right-click (or long-tap) over it and select Edit from the menu.
In the Time Dimension dialog, look at the Date Range values. The From date is fixed to the start of the current year (at the time of installation) minus 8 years (e.g., 2007). The To date is fixed to the end of the current year at the time of installation (e.g., 2015).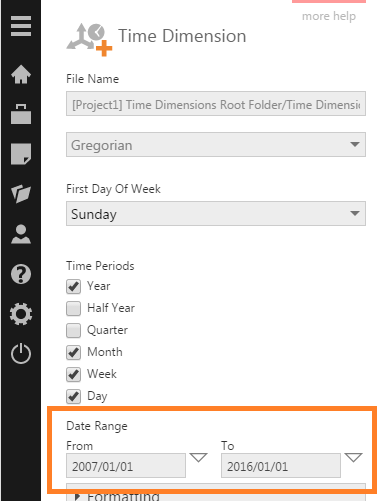 Open the token menu for the To date and select the End of current year token.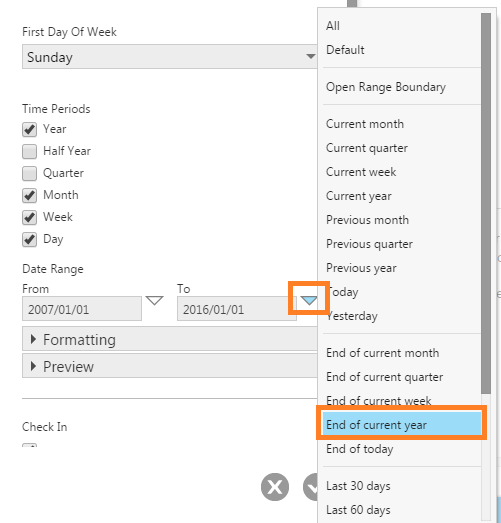 Once you set this, you'll also need to adjust the From date. You can set this to a fixed value or also use a token value with an offset. For example, open the From date token menu and select Advanced. In the Set Up Token Offset dialog, set the Token to Beginning of current year, and the Offset to -8.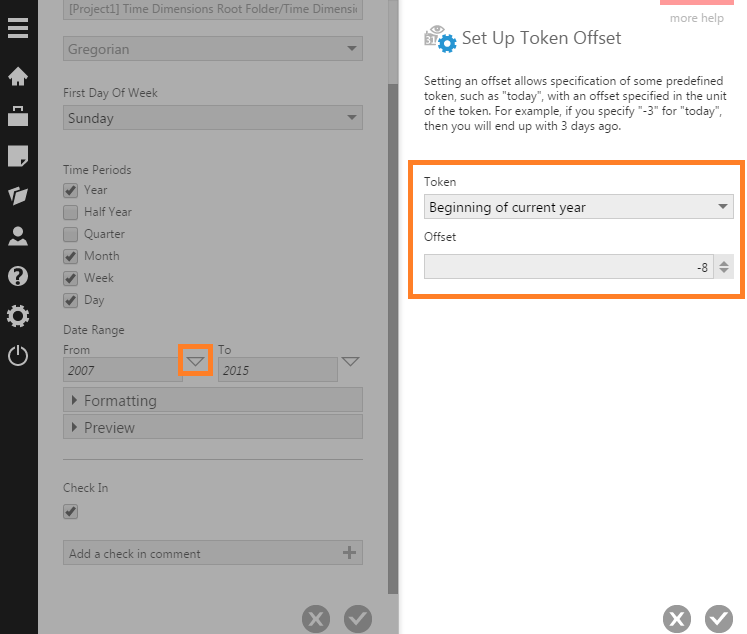 The date range of this time dimension will shift accordingly as time advances from year to year.
3. See also