Custom Number Formatting
1. Overview
This article will give more information on custom number fromatting in Dundas BI. It uses .NET format strings to be able to use different formats in the dashboard. For more information, take a look at the links provided below for the numeric format strings.
2. Getting Started
Shown below is the initial table using AdventureWorks2012. We will be using this table for the following examples.
3. Changing Numeric Format for Table
To change the numeric format of a number in the table, go to the Data Binding Panel, and edit the measure you want to change.
On the Configure metric set element window, under Format, change N2 with the custom format string you want to apply to the data.
The final table will look like this:
If you want this to be applied to the other data visualizations, follow the steps above. The tooltip will retrieve the information used from the table: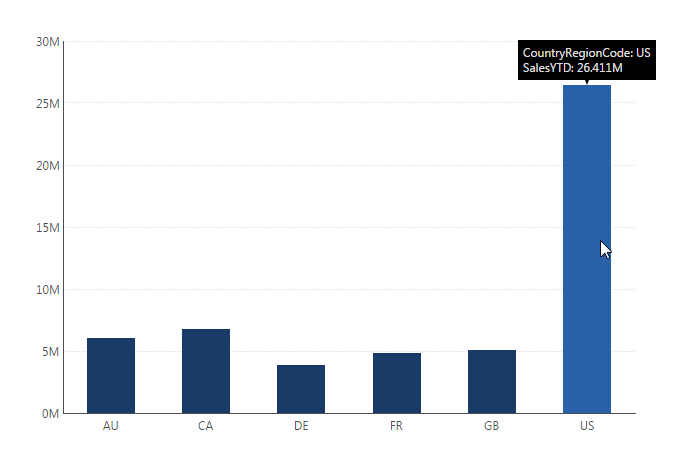 For the left axis label on the chart that was shown above, it comes from Properties > Main > Chart > Left Axis > Text > Labels
4. Limitations
The custom number formatting cannot be used for data point labels or axis labels.
5. Best Practices
Typically, when comparing row-by-row, the eye is quickly glancing through the number of digits rather than the actual value. As a result, it could be misleading when users read the shortened values, and accidentally interpret one number larger than the other when it is not.
For example, in this table, we do not even need to read the number to know that Category A is larger than in Category B.
| | |
| --- | --- |
| Category | Value |
| A | 1,000,000,000 |
| B | 3,000,000 |
This will also work if the custom formatting with M or B is used:
| | |
| --- | --- |
| Category | Value |
| A | 1.000B |
| B | 0.003B |
However, if it is set dynamically, it will confuse other people that Category B will be greater than Category A, as 3 is bigger than 1:
| | |
| --- | --- |
| Category | Value |
| A | 1.0B |
| B | 3.0M |
6. See also