Add the Dundas BI SharePoint Web Part
1. Overview
The Dundas BI SharePoint Web Part lets your SharePoint users view and interact with available dashboards and reports from your Dundas BI server.
You install the Web Part on your SharePoint server after Dundas BI has already been installed.
2. Launch the Deployment application
Start the Dundas BI Deployment application on your SharePoint server.
The default folder location for it is: C:\Program Files (x86)\Dundas Data Visualization Inc\Dundas BI\Setup\2.5.

You can also launch the Deployment application from your Start menu on the server.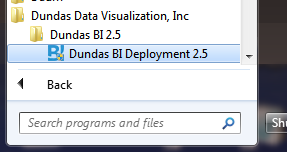 3. Add the SharePoint web part
In the Deployment application's main screen, click Extras to see the available SharePoint options.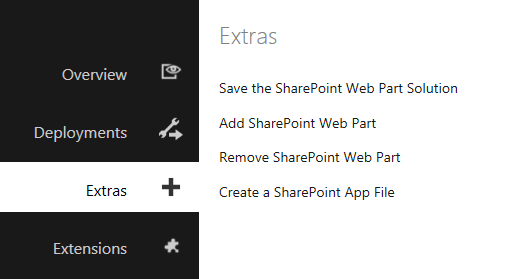 Click Add SharePoint Web Part to begin the installation.
3.1. Prerequisites
The installation checks for prerequisites before it can proceed further. If your system meets all of the prerequisites, simply click Next to continue.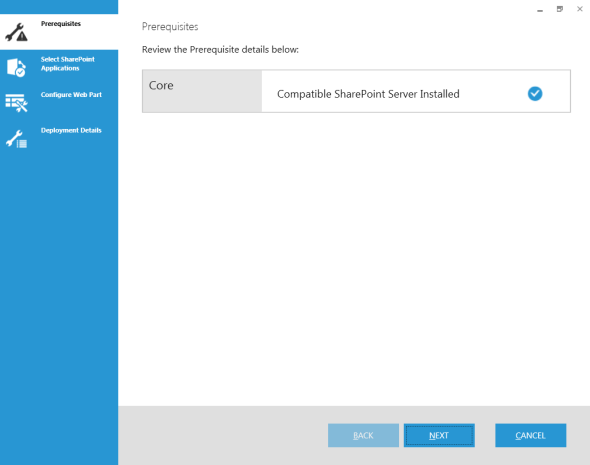 3.2. Select SharePoint applications
Select the Deploy and Activate checkboxes for each SharePoint application you want to deploy the Web Part to, and then click Next.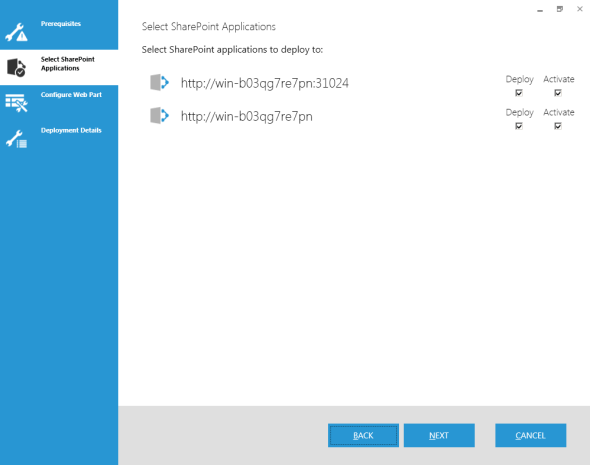 3.3. Configure the web part
Configure the Web Part by entering the URL for accessing your Dundas BI instance, and then click Next.
If your Dundas BI instance is installed on the same server as SharePoint, using a Dundas BI URL like http://localhost:8000/ may work.
3.4. Deployment details
Review the details in the Deployment Details screen, and then click Deploy.
Wait while the Web Part is being added and deployed.
3.5. Adding the SharePoint web part has succeeded
The following screen is displayed when the installation has completed successfully.
You should now be able to add the Dundas BI SharePoint Web Part to your web pages in SharePoint.
4. Installing the SharePoint SSL certificate
You may have to establish a trust relationship for the connection between the Dundas BI instance and SharePoint, particularly if the root certificate is not installed on the same server as the SharePoint Central Administration.
Note
If you are running SharePoint in HTTPS, you have to configure your Dundas BI instance website to
use HTTPS service
.
Obtain the root certificate related to the website.
Install the root certificate on the SharePoint server in the Trusted Certificate store.
Install the root certificate through the SharePoint Central Administration. Select New under Security | General Security | Manage Trust, give it an appropriate name, and add the certificate.
Next step: Using the Dundas BI SharePoint Web Part
5. See also