Installer and instance versions
1. Overview
The Dundas BI Deployment application (installer) has its own version number which is the same as the version of the Dundas BI instance that it creates.
Both the Deployment application and a Dundas BI instance have a 4 part version number like: 2.5.0.1003

The following figure explains the components of this version number.
2. Types of versions
A major version of Dundas BI includes many new features and potentially a large number of issues fixed.
A minor version of Dundas BI may include a few new features, and a number of issues fixed.
A revision of Dundas BI generally includes a few high-priority fixes.
3. Launch the Deployment application
If you want to see the version numbers of the installer and the instance it creates, launch the Dundas BI Deployment application (from the Dundas BI server).
The default folder location for it is: C:\Program Files (x86)\Dundas Data Visualization Inc\Dundas BI\Setup\2.5.

You can also launch the Deployment application from your Start menu on the server.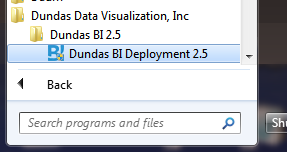 4. About screen
In the Dundas BI Deployment main screen, click About to see the version information.
Tip
If you are logged into Dundas BI as an administrator, go to My Profile, scroll down, and click More about this product to see detailed version information for the current instance.
5. See also