Edit versus View mode and Sandbox View
1. Overview
Edit, View, and Sandbox View are the options you see in the toolbar of Dundas BI, depending on which mode you are currently in.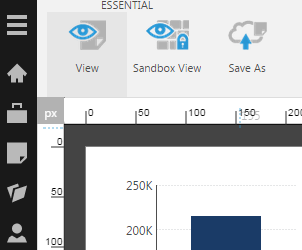 2. Edit mode versus View mode
In Dundas BI, there is not much difference between the two modes except how mouse operations are interpreted.
In Edit mode, you can use your mouse to select a control on the canvas, move it around, and resize it.
In View mode, controls respond to mouse interactions, meaning you can use your mouse to interact with controls, such as viewing tooltips or accessing the context menu to perform operations such as drilling down. Additionally, reports and scorecards only execute and show repeated controls while in View mode.
Important
Any changes you make in View mode (such as drilling down, re-visualizing, or executing a script) will
persist even when you switch back to Edit mode
. If you don't want your changes saved during viewing, try the
Sandbox View
option instead.
3. Sandbox View
The Sandbox View option displays your current dashboard (or report, etc.) in a new browser window without any toolbars or docked panels.
In most cases, changes that you make in the Sandbox View are not persisted/saved. The exception is when you are working with a checked-out metric set. In that scenario, changes are always saved, regardless of what mode you are in.
So if you want to make sure changes are not saved during viewing, check in the metric sets you are using beforehand, and use the Sandbox View option.
4. See also