Manual Select
Enter an SQL statement to make a selection from a data connector instead of dragging native structures onto the canvas.
1. Input
For example, the input data is:
SELECT ProductID, OrderQty, OrderQty * 2 as 'Order2'
FROM Sales.SalesOrderDetail
2. Add the transform
Select the Manual Select transform from the toolbar.

Select the Data Connector.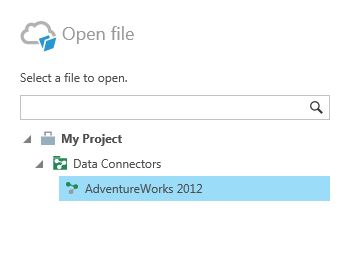 Enter the SQL statement.

Tip
Use the keyboard shortcut Cntrl + Space for a list of available SQL keywords and table names. You can also drag the native structure (cube, table, column, measure, or hierarchy level) from the Explore tab to the Script Editor to add the respective unique name.
Click Save.
3. Configure
3.1. Enable Subquery Optimization
In order to execute a Stored Procedure in the Script Editor, you need to uncheck the Enable Subquery Optimization checkbox in the Manual Select transform configuration.
You should also uncheck this option if you need to run queries that create temporary tables. For example, you may need to uncheck this option if your data connector uses an ODBC data provider that incorrectly reports its capabilities.
Note
If you have enabled subquery optimization, it is recommended to avoid inserting comments into your query, especially for non-SQL Server data providers.
3.2. Placeholders
The Manual Select transform also lets you define a placeholder and use it in your manual queries. A placeholder is basically a parameter which you can later connect to a filter control on a dashboard.
See Using Manual Select placeholders for more details.
4. Output
The figure below illustrates the output from the Manual Select transform.
You can also use Manual Query to use hard-coded data. See sample query below:
SELECT CONVERT (date , '01/15/2013', 101) as [Date], 1000 as [Series1], 400 as [Series2], 100 [Series3], 500 [Series4] UNION ALL
SELECT CONVERT (date , '01/16/2013', 101), 300, 100, 300, 900 UNION ALL
SELECT CONVERT (date , '01/17/2013', 101), 700, 200, 200, -500 UNION ALL
SELECT CONVERT (date , '01/18/2013', 101), 200, 300, 300, 300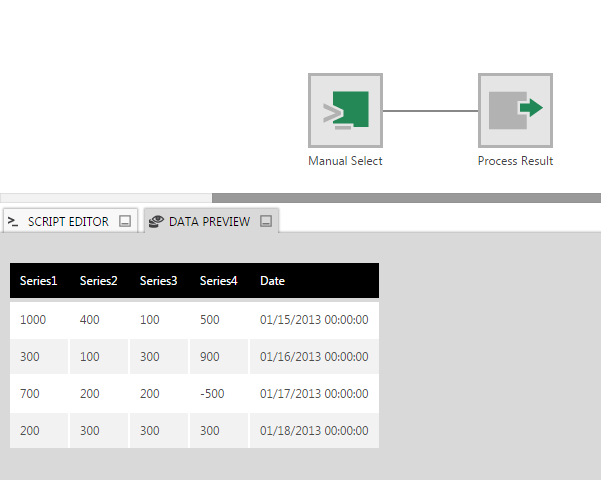 5. See also