Top/bottom N filtering for reports and scorecards
1. Overview
This article shows you how to apply top or bottom filtering to reports and scorecards.
An example walkthrough is presented using data from the AdventureWorks sample database.
2. Create a new scorecard
Follow these steps to set up the scorecard:
Create a new scorecard from the main menu.
Resize the width of the scorecard smaller since it will be used to display just two columns.
Go to the Explore window and locate the [Sales].[SalesTerritory] table under your data connector.
Drag the Name column to the grouping area (drop a column or hierarchy here to repeat controls for each value); a corresponding pair of data label and header will appear.
Drag the SalesYTD column to the scorecard body; it will add the measure to the group metric set and appear as another pair of data label and header.
The scorecard should look like the figure below.
Switch to View mode to see the scorecard rows.
3. Apply top/bottom filtering
Go back to Edit mode and click the magnifying glass icon to the left of the scorecard grouping area. This opens the Data Analysis Panel for the corresponding scorecard group.
In the Data Analysis Panel, click the Edit button at the top.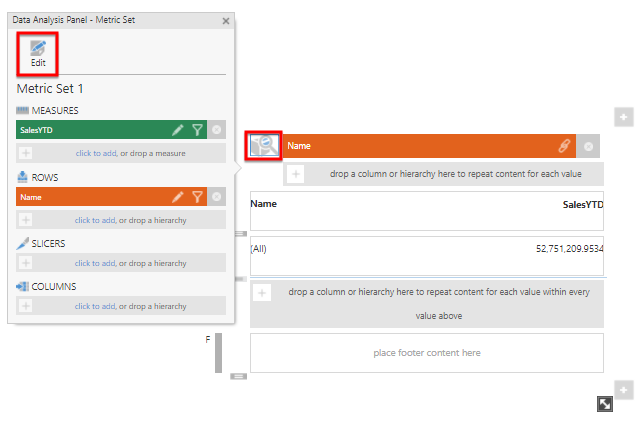 In the Metric Set Binding Configuration dialog, locate the Top/Bottom Measure dropdown and set it to SalesYTD.
Set the Top value to 5 (in order to display top 5 records).
Switch to View mode to see the top 5 scorecard rows.
4. See also