This past week, Dundas was fortunate enough to attend the 8th annual IQPC Call Center summit in Orlando Florida. In addition to exhibiting at the show, Dundas' Principal Consultant Nelson Ng and Seth Victorine of Farmers Insurance spoke about what dashboards mean to a call center and how they can help call centers become more efficient. Overall, Dundas took away a number of important lessons including why people aren't too enthralled about the idea of implementing dashboards; the importance of properly educating your employees; and how our personal experience with a call center during the tradeshow helped us view call centers in a new light.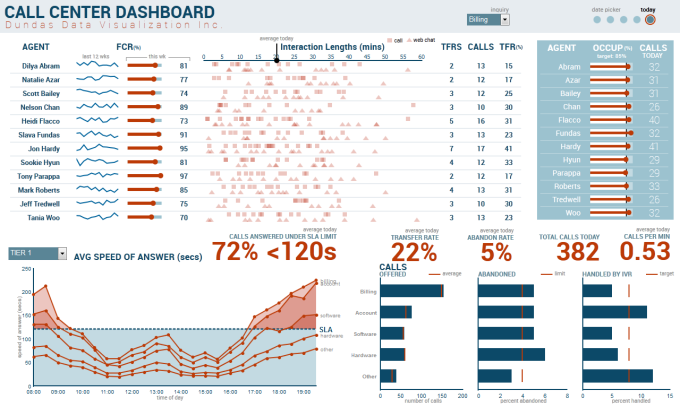 As we arrived at our reserved spot at the convention center, we noticed that something was missing. Apparently, the major shipping company that we used to deliver our tradeshow booth misplaced our shipment, leaving us with a 10 x 10 void in the middle of the tradeshow. This lead to a lengthy back-and-forth with their customer service call center and a convention-center-sized headache, and alas, no booth was delivered in time. The irony wasn't lost on us, but we were able to see first-hand what kind of stress is placed on call center operators to resolve issues and deliver actionable items on time.
After we settled in as best we could, Nelson Ng and Seth Victorine took to the stage to present the power of dashboards for call center employees. When asked by Nelson how many of them work at a company that currently uses dashboards, half-a-dozen people raised their hands. However, when those same people were asked how many view those call center dashboards as an indispensable part of their business that they can rely on for up-to-date information, those half-a-dozen hands shot back down. Why did this happen? For the same reason that Nelson was speaking that day: the dashboards were reserved for the managers and directors of the company, not the common employee who would benefit from it most!
But the main reason that dashboard adoption wasn't as widespread as it could be was that people were worried. It seems that "horror stories" regarding dashboards permeated the industry frequently: dashboards were too expensive, too complicated, not relevant enough or too technically imposing. Fortunately, Nelson and Seth addressed all of these concerns during the presentation, and even stuck around after their allotted time to answer any remaining questions.
In spite of some logistical issues that arose with us not having a booth, the Call Center committee was pleased with Dundas. The custom dashboard we designed and implemented for the show was a success and will lead to more opportunities in the future, including attendance at the Canadian Call Centre Summit, scheduled for later this year.