I'm swooning over this graphic. The more I look at it, the more I love it.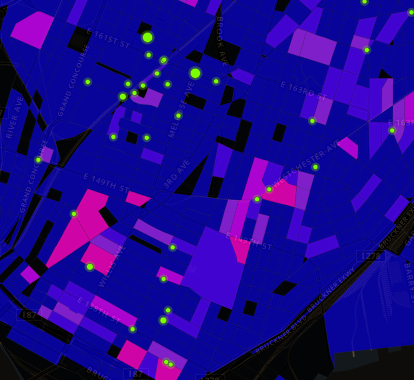 WNYC's map is known as a "Choropleth map",
Which simply means that areas are shaded in proportion to the measurement that is being made. In this case, the areas that are shaded represent the total number of police stops and frisks that are being made in an attempt to get guns off the street. The shades that tend towards magenta show a high concentration of police stops, and the shades that tends towards blue show a lower concentration. The map is then punctuated with green dots, which show stops where a gun was actually found. Bigger dots indicate groups of stops.

The goal of this map is to show the "hot spots" where stops and frisks are concentrated, and where guns are actually recovered in relation to them. Whether or not correlation equals causation here is up for debate. Some might conclude that the map shows that the police aren't looking in the right areas for guns and optimizing their activities. On the other hand, NYPD officers tell WYNC that the areas they focus on are where violent crimes have been reported, rather than gun recoveries.

Despite what you might believe, this map has a lot of people talking about the data, and that's awesome. The fact that people are talking about the substance of the map rather than the map itself is an indication that the creators of this graphic have done a great job. Regardless, there are some attributes about this map that we can talk about, within the framework of some data visualization ideals:

1. It shows the data, and does not distort it. This is basic, simple, and almost too-obvious, but it is important and often overlooked.

2. This map shows an incredible amount of data in a small space. Data density doesn't get much better than this; it is rich with information and makes a large dataset quite coherent.

3. It shows a very clear purpose, which is to show the "hot spots" where stops and frisks are concentrated, and where guns are actually recovered in relation to them.

4. The use of colour is well thought-out and encourages you to analyze and compare the data. At a high level, the background colors don't overwhelm, and provide a calm platform for analysis. The emphasis colors however immediately grab your attention – the shades of magenta that indicate a high concentration of stops, and the bright green dots show contrast across multiple dimensions.

5. Data is revealed at several levels of detail, from a broad overview of the entire region to individual blocks.

6. It shows a lot of context that many of us take for granted. Small details like "All data 2011", the creator of the graphic, the source of the data, and the detailed tooltips at the top right all add credibility and integrity to the graphic, which is essential. John Keefe, the creator of the graphic, adds his name to the bottom, almost as if to indicate he is ready to stand behind his work. It even links to his e-mail address – that's a sign of confidence!

7. It includes links to the story, and even to the actual data at nyc.gov (the data is made available in an SPSS portable file format).

The interactivity is intuitive and carefully incorporated into the interface without dominating it. It doesn't force you to think to interact with it, so you can think instead about the story the data is trying to tell.

For example, at the top right, readers have the ability to zoom straight to an address. Small zoom buttons at the top left serve as a reminder that you can change the level of detail. As you zoom-in closer, increasingly granular details are revealed, from areas and villages to individual street names. Clicking and dragging the map allows you to pan in all directions. Hovering over a shaded area gives you more detail at the top right (e.g. "West Concourse, Bronx Tract 006300, Block 1004"), along with the actual value (e.g. "All stops in this block: 367"). This is a perceptive addition because while the diverging colors give you a sense of scale, they don't offer much precision. Hovering over an area and looking to the right allows readers to get the precise value, should they find it to be relevant for analysis. One addition that could be helpful would be to allow readers to zoom in and out of the map with a mouse scroll wheel.
The map is ultimately effective because it is interesting, it contains substance and statistics, it's designed beautifully and intuitively, and it performs quickly. It rewards careful study, and directs our attention to the subject matter.

I wonder if including violent crime statistics would help to validate the NYPD officers' assertion that their focus is on areas of violent crime and perhaps tell a more-complete story.
Great maps have been used throughout history to tell incredible stories. In 1854, Dr. John Snow famously used a dot map to plot the location of deaths from cholera in central London. Analyzing the data geospatially allowed him to discover that occurrences of cholera were concentrated around the Broad Street water pump. His work (seen below) is a beautiful example of data visualization during a time when a mouse was, well, just a mouse.