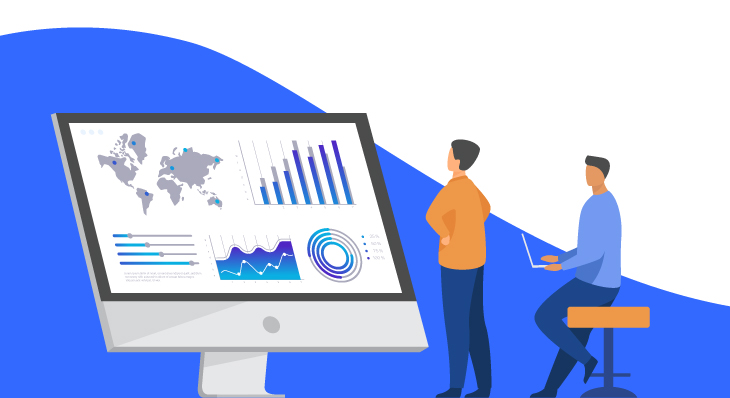 There's a reason why people still buy vehicles from dealerships. It's a big decision, and it helps to talk to someone about your specific requirements. Buy or lease? Automatic or standard? Hybrid or electric? Convertible or SUV? Blend-in beige or stand-out cherry red?
From form to function, you want options—and guidance—to customize your ride so it works with your lifestyle. You also want post-sales support. And you may want the option to upgrade as your needs change.
The same goes for a business intelligence (BI) and data analytics platform. This isn't an off-the-shelf type of purchase; like buying a vehicle, it's a big decision. And there are dozens of solutions and vendors in the marketplace with seemingly similar features and functionality.
While the platform itself matters, so does working with the right vendor—one that partners with you and offers a customizable, flexible, scalable approach. So, what should you look for in a platform and in a vendor to help you get the most out of it?
Getting the most out of your BI rollout
Your organization has vast amounts of data, including structured, semi-structured and unstructured. You want to turn that data into actionable insights. But there isn't a one-size-fits-all solution—not that you'd want one, anyway. You know it'll involve a lot more than purchasing licenses and getting access to a 1-800 hotline to meet your unique needs.
Finding the right analytics platform will depend on the volume and variety of your data, as well as your existing IT infrastructure and your team's technical abilities. It also depends on your business goals—and that's where the right vendor could help.
Since data analytics is constantly evolving—thanks, in part, to advances in machine learning and artificial intelligence—you want the ability to quickly evolve your platform along with the latest innovations, such as new ways to visualize and interact with data or deal with complex data structures.
Like buying a vehicle, you may need some advice and guidance along the way. After all, software is only one piece of the puzzle. Along with your technical specifications, you also want to consider services such as personalized support, hands-on training and interactive resources to help you get the most out of your 'ride.'
The right vendor should be able to provide guidance through this process and customize the right platform to meet your needs.
Top considerations for vendors and platforms
That starts with figuring out your strategy around BI and data analytics. How will analytics help you meet specific business goals (such as retaining customers, getting new ones or increasing profits)? And who are your users? Do you have data scientists on staff, or do you want analytics to be more broadly available to power users or business managers?
Think of analytics in a holistic way. Base functionality is important, but also consider the guidance, assistance and additional resources that accompany your purchase. Ideally you want a single platform that takes care of all your BI needs, but the service and support component is equally as important.
When buying software—BI software in particular—it's not enough to choose a vendor who checks the boxes from a functionality standpoint. Look for a vendor who treats your purchase as a partnership; who takes the time to understand what you're trying to achieve and will help you get there, from both a pre- and post-sales perspective.
Consider support that goes above and beyond a 1-800 hotline. Will you have a dedicated rep to customize the platform to your needs? Will that person be available on an ongoing basis, not just pre-sales? Do you have access to expert help or a support network, perhaps even R&D?
Look for customized demos, pre-sales training and proof of concepts. Also look for resources that can help inform your analytics journey, from documentation to certifications. You also want access to ongoing training and tutorials, as well as consulting services; access to a user community is a definite asset.
Training and consulting
When it comes to training, consider whether the vendor offers online or on-site training (preferably you want both). Online product training is ideal for today's WFH workforces; training sessions can still be taught by a live instructor so users can ask questions in real time. When employees eventually return to the office, they may prefer to have on-site product training in a hands-on, interactive environment, or hybrid online/on-site training.
Also consider whether the vendor offers pre- and post-sales consulting. You may need advice with your initial set-up, for example, or guidance in coming up with key performance metrics for your dashboards. Or, you may want advice on best practices, such as how to design effective visual discovery solutions.
While there's more to rolling out BI software than purchasing licences, it's still important to evaluate vendors who offer a flexible licensing structure. Just like the platform itself, your licensing structure should be customizable, so it can be shifted or scaled to meet future requirements.
Technical criteria and user buy-in
Your analytics platform will also need to meet certain technical criteria. Consider how it will integrate into your current IT infrastructure, including existing systems as well as third-party data sources and cloud platforms. You want a solution that will combine data from different systems onto a single dashboard, providing a one-stop-shop for all your BI needs. Behind every successful rollout is tight integration with existing programs and systems.
Also consider your users and the level of support they require. Does the platform have a user-friendly interface that supports all types of users, from developers to analysts to non-technical users (especially for self-service analytics)? How easy is it to understand dashboards and create reports? If it's too complex, you won't get buy-in from users. Does it have customizable dashboards and reports? The platform should support users' current needs, but also the organization's future goals.
Then there are those 'soft' considerations, like getting senior management buy-in and overcoming users' resistance to change. Look for a vendor who can help you cultivate a 'data-driven culture' for better adoption of BI tools. Training and tutorials tailored to your users' needs can also help to drive engagement.
Since the analytics market is constantly evolving (after all, data keeps growing exponentially), your platform needs to be able to evolve with your users and your business goals. Choosing the right platform—and the right vendor to partner with—can help you achieve those goals.
About the Author

Vawn Himmelsbach is a writer and editor specializing in enterprise IT, writing for national newspapers and technology trade magazines on everything from AI to zero-day threats. She also spent three years working abroad as an Asian correspondent, covering all things tech.

Follow on Linkedin