Devon Partnership NHS (National Health Service) Trust, located in south west England, provides publicly funded health services both locally and nationally, to individuals with varying mental health complications, learning disabilities, alcohol and drug addictions, eating disorders and more.
As an organization that is passionate about promoting good mental health and well-being, Devon Partnership NHS Trust strives to use the expertise and resources they possess, in conjunction with their partnerships, to deliver exceptional quality services that are safe and focused on people's recovery. At any given time, there are roughly 20,000 patients being supported through any of the Trust's services.
Within Devon Partnership NHS Trust lays the Informatics team, where a select group of employees service the Trust by resolving hundreds upon thousands of information requests that are amassed from both external sources as well as from employees within the Trust.
Their Needs
Prior to implementing Dundas BI, Devon Partnership NHS Trust maintained a SharePoint (SP) portal, whereby Excel reports were uploaded on a frequent basis. In addition to SP, the Trust possessed SQL Server Reporting Services (SSRS), which was situated on top of their data warehouse.
As their SP portal grew and became overpopulated with Excel and SSRS reports, Devon Partnership NHS Trust found that their data consumers were experiencing difficulties when locating specific reports and that the SP portal was operating at a much slower pace than expected. This, coupled with the fact that their reports appeared outdated, led to low adoption rates and challenges implementing a performance management culture. Additionally, the reports were arduous to develop and maintain, imposing greater difficulty for the Informatics team to deliver valuable data to the consumers in a meaningful way and in a timely fashion.
In other words, Devon Partnership NHS Trust strove to streamline reporting processes and increase user adoption while simultaneously reducing the sheer number of requests to the Informatics team.
Their Solution
Devon Partnership NHS Trust evaluated a handful of Business Intelligence vendors including Qlik, Tableau and Dundas Data Visualization. What they found, was that Dundas' platform, Dundas BI, was more developed for end-to-end functionality than the other vendor's offerings, and was less complicated in regards to connecting to data warehouses and linking to SQL Server with pure or parameterized SQL queries they have already developed for previous reports. The Trust discovered that the ability to connect to a variety of data sources was an innate feature of Dundas BI, which would eliminate additional layers of processing for them.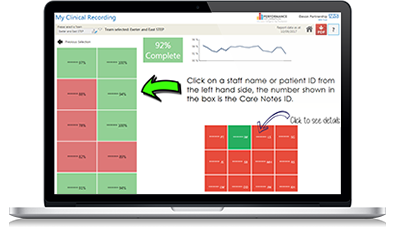 A tailored landing screen, helping data consumers to better understand how to best use the data with no previous training
Why Devon Partnership NHS Trust Chose Dundas
Advanced Data Exploration
Enterprise Level Deployment
Superb User Interactivity
Tailored Data Consumption
With Dundas BI, Devon Partnership NHS Trust was able to connect directly with their existing databases and warehouses, limiting the amount of data-prep required to perform data discovery, filtering, sorting, grouping and drill-downs.
Dundas BI's web and mobile-optimized dashboards provided Devon Partnership NHS Trust the ability to build, share and view fully interactive dashboards directly in their HTML5 browser, without the need for a desktop application. This helped the organization transition faster to Google Chrome.
Dundas BI's inherent import/export functionalities have enabled Devon Partnership NHS Trust to migrate their BI projects from a development environment to a production environment without the assistance of third-party tools adapting to their in-house software development methodology.
Devon Partnership NHS Trust heavily exploited Dundas BI's powerful drill-downs to drive company-wide performance betterment. Different teams and directorates are afforded the luxury of being able to drill-down into scorecards to determine exactly which KPIs are not passing their set thresholds and the main causes.
Devon Partnership NHS Trust designed their reports and dashboards in an intuitive manner that allowed their users to consume as much data as possible, without requiring them to understand and learn how the software operates. With Dundas BI, they could tailor the user's method of consuming and exploring the data.
The extensibility of Dundas BI helped Devon Partnership NHS Trust build a branded, internal portal whereby all reports and dashboards are accessible.
Devon Partnership NHS Trust was able to quickly create new dashboards using predefined layout templates.

"Dundas BI is a very powerful and highly customizable data visualization tool that has allowed us to present clear, interactive reports to our organization for the first time."
Richard Eales
Business Intelligence Developer
NHS
Final Statements
When all was said and done, Devon Partnership NHS Trust acquired a BI solution that enabled them to transition from older, outdated paginated styles of reporting services towards more modern and personalized interfaces, thereby resulting in greater adoption rates organization-wide.
What can Dundas do for you?
No one knows your business better than you do.
Tell us what you're trying to achieve and we'll make sure you get there.