Administration Overview
Application configuration and other admin tasks can be performed in Dundas BI without having to log in directly on the server. This makes it easy to administer the system and perform tasks such as changing configuration settings or adding a new license.
1. Accessing admin functionality
To access the Admin functionality in Dundas BI, first log on as an administrator user. In a typical installation, the administrator's logon name is admin, and the password is the one specified during the installation procedure. Users who are part of the System Administrator's group in Dundas BI also have access to the admin functions.
Next, if you are at the home screen, click Administration.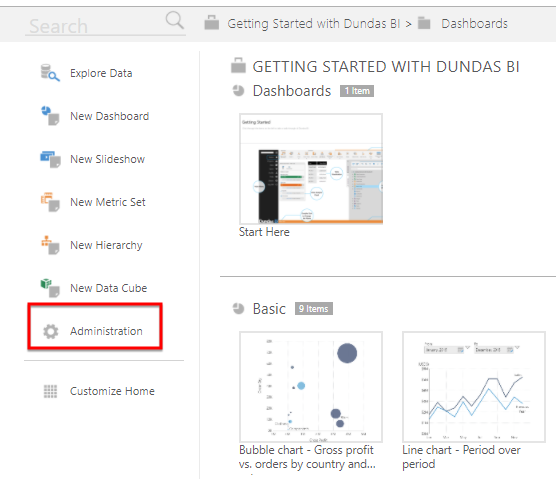 Alternatively, go to the main menu and click Admin.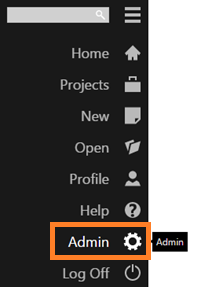 You are now presented with the administration homepage and a list of admin functions on the left.
1.1. Administration homepage
The administration home page is divided into three sections:
Notifications

Application-wide errors and warnings, such as failed jobs, critical logs, or licensing issues, will appear at the top of the page and may include a link for further information.

Application Information

A list of information related to this instance of Dundas BI. This section includes the following information:

Instance version.
License kind and licensee.
Application identity and ID.
Number of active logon sessions. Click the value as a shortcut to the Active Logon Sessions page.
Logon history over the last 24 hours. Click the value as a shortcut to the Logon History page.
Number of running jobs. Click the value as a shortcut to the Jobs page.
Number of account. Click the value as a shortcut to the Accounts page.
Number of tenants. Click the value as a shortcut to the Tenants page.
Number of active servers. Click the value as a shortcut to the Registered Servers page.

Server Information

A list of information related to the currently used server. This section includes the following information:

Server name and ID.
Connection strings for the application database and the warehouse database.
CPU usage chart.
Memory usage chart.
Note
Tenant administrators, who are not part of the System Administrator's group, will not have access to the admin home page and will default to see the File Explorer.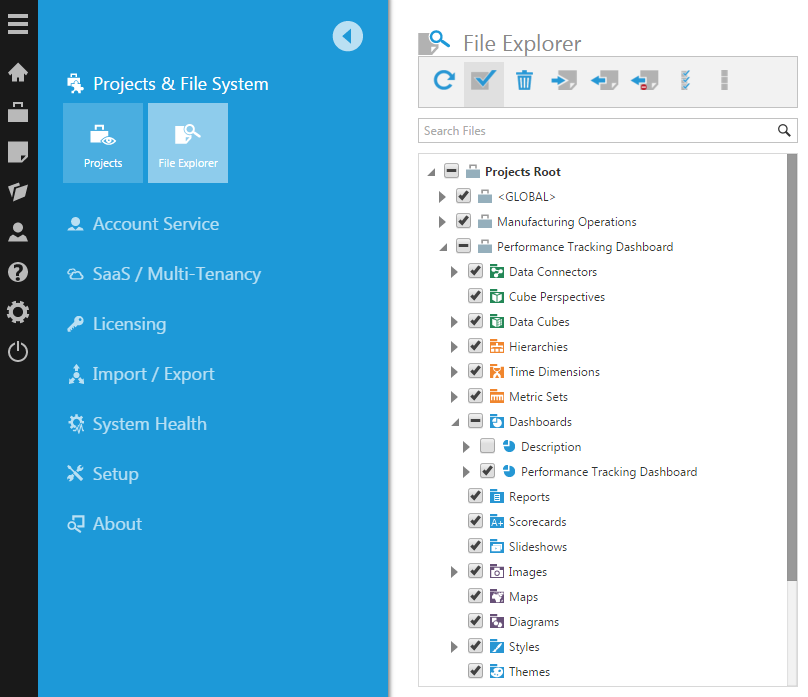 2. Administration areas
Admin functions are categorized into different areas such as Account Service and Licensing. Click on one of the headings to expand it and see the available options.
2.1. Projects & File System
The Projects & File System area lets you:
Create, edit, and delete projects
Explore the files and folders within an existing project
Rename, edit, publish, or delete file items (e.g., data connectors or dashboards)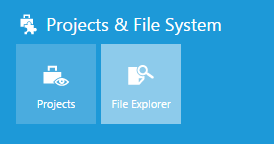 2.2. Account Service
The Account Service area lets you:
2.3. SaaS / Multi-Tenancy
Dundas BI has built-in support for SaaS (software-as-a-service) and multi-tenant deployment scenarios. Use the Saas / Multi-Tenancy administration area to:
Create and manage tenants which are isolated from each other.
Add user accounts or groups to a specific tenant.
View and manage tenant projects.
Share a single project and its dashboards with multiple tenants using data connector overrides.
Customize the licensed seats for each tenant individually.
Note
You must have the appropriate licensing from Dundas in order to see this administration area.
2.4. Licensing
The Licensing area lets you manage existing Dundas BI licenses and add new licenses. You can also see how many licenses of each type are in use and how many are available.
Tip
Adding a valid retail license will remove the evaluation watermark from Dundas BI screens.
2.5. Import/Export
The Import/Export area lets you:
Export and import projects, accounts, groups, and custom attributes
Save your export settings in a configuration file for future exports
2.6. System Health
Use the System Health area to:
Access system logs to troubleshoot operational warnings or errors

Manage running and scheduled jobs in Dundas BI:

Verify email settings by sending a test email
Run health checks and fix identified issues
2.7. Setup
The Setup area lets you:
View the effective configuration settings
View or modify configuration settings for this server, a server group, or globally
Register servers and add server groups for load balancing
Create and modify tokens for simplified user input
2.8. About
Click About to view the About screen for this Dundas BI instance. This is the same screen which is accessible from each user's Profile via the More about this product link.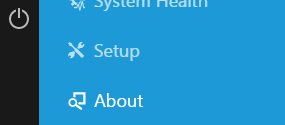 The About screen displays information such as:
Version
Release Kind
Build Date
Licensed To
License Kind
License IDs
Session ID
3. See also