Connecting to EXASolution
1. Overview
This article shows you how to set up a Data connector for connecting to the EXASolution database.
2. Install the driver
In order to connect to the EXASol database, you need to download and install the EXASolution ADO.Net Driver.
Make sure you install the driver that matches your version of the database.
3. Create the data connector
Log on to Dundas BI and create a new data connector.
Enter a name for your data connector.
Set the Data Provider dropdown to EXASolution Database.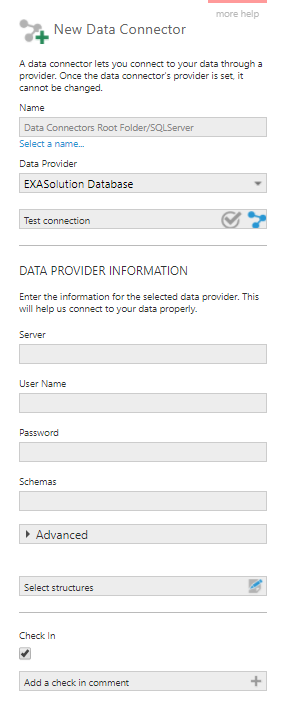 Enter the required credentials:
Server
User Name
Password
Schema
Click Test Connection to check the connection to your EXASolution databse.
If the test is OK, click submit to create the data connector and perform data discovery.
4. See Also